Key Points:
COVID
In today's Recommendation for Industry, we discuss the overall positive trajectory of COVID cases, even with variants continuing to emerge. Read more below.
WHO: COVID-19 cases, deaths drop globally. The World Health Organization (WHO) said global COVID-19 cases were down 11% in the week ending on Sep 25, and deaths were down 18% compared to the previous week. Omicron is still the main variant of concern, representing 99.9% of cases reported globally in the past week. The global COVID totals are 616,275,830 cases and 6,540,285 deaths. Japan's Shionogi & Co has proved a successful trial with its antiviral protease inhibitor known as ensitrelvir. The drug performed well compared with a placebo in phase 3 trials and was able to reduce symptoms from Omicron-caused infections.
Report: COVID-19 has lowered lifespan across the Americas. A report from the Pan American Health Organization (PAHO) shows that COVID-19 reduced life expectancy across the Americas while amplifying economic inequities and existing health disparities. Health expectancy across the region fell to levels not seen since 2004. Life expectancy in Latin America and the Caribbean decreased from 75.1 years in 2019 to 72.2 in 2021, a decline of 2.9 years. In North America, expected lifespan dropped from 79.5 years in 2019 to 77.7 in 2021, or by 1.8 years. In addition to declining life expectancy, both routine childhood immunization levels and mental health diagnoses have suffered under the veil of COVID-19. In other COVID-19 news, child COVID-19 cases declined for the fourth consecutive week in the United States, with 55,000 reported for the week ending Sep 22, according to the latest update from the American Academy of Pediatrics.
Monkeypox
Unvaccinated individuals 14 times more likely to get monkeypox than vaccinated, new US data shows. That figure reflects the first wave of authoritative data collected by the Biden administration on the efficacy of the monkeypox vaccine that is currently being administered across the United States. There is still ongoing research being performed on the Jynneos vaccine.
Food Safety & Public Health
Activities for the Safety of Imported Produce. There are four goals this activity document outlines, from the 2019 import strategy, in which the agency will be working to enhance the safety of fresh fruits and vegetables:

Food Offered for Import Meets U.S. Food Safety Requirements
FDA Border Surveillance Prevents Entry of Unsafe Foods
Rapid and Effective Responses to Unsafe Imported Food
Effective and Efficient Food Import Program

Food safety tips for those in Hurricane Ian's path. Within this source, authors point out numerous tips for individuals who find themselves affected during and after the hurricane and what correct food safety steps they should take. Read more here.
FDA Proposes to Update Definition for "Healthy" Claim on Food Labels. The "healthy" claim can act as a quick signal on food package labels to help empower consumers, including those with lower nutrition knowledge, with information to identify foods that will help them build healthy eating patterns. The proposed changes to the definition of "healthy" are aligned with current nutrition science, the Dietary Guidelines for Americans, 2020-2025 and the updated Nutrition Facts label. The FDA's approach focuses on ensuring that nutrient-dense foods that help consumers build a diet consistent with current dietary recommendations can qualify to bear the claim. The FDA is also researching a symbol that manufacturers could use on the front of the pack to show that their product meets the definition of the "healthy" claim.
Recommendations for Industry
U.S. on Positive Trajectory, though COVID Variant Emergence Continues 
An overall positive COVID outlook in the U.S. is being somewhat supplanted in certain areas by the continuing rise of new variants.
Overall, TAG's COVID matrix is continuing to show a significant decrease in case rates across much of the U.S. However, cases and transmission rates have risen somewhat in the Northeast, particularly in New Jersey and New York. A review of CDC's 9/18-9/24 NOWCAST map (below) indicates that this increase may be related to the emergence of BA.4.6 and BA.2.75 (with BA.4.6 reflected in the dark blue portions of the pie charts).
As CDC explains, SARS-CoV-2, the virus that causes COVID-19, is constantly changing and accumulating mutations in its genetic code, so new variants are expected to continue to emerge. Some will emerge and disappear, while others will emerge and continue to spread and may replace previous variants.
Related to other communicable diseases that TAG has been tracking:
Monkeypox cases are continuing to trend downwards. While there are still upwards of 500+ cases in 10 states (California, Washington, Texas, Illinois, New York, Pennsylvania, Delaware, North Carolina, Florida, and Georgia), newly discovered cases are diminishing.
Influenza case have begun trending upward, with case rates seen as very high in Washington DC, and moderately high in Georgia, Texas, New Mexico, and Hawaii.
TAG will continue watching and assessing the emergence of COVID variants, as well as the seasonal re-emergence of the flu to keep you informed and advised on best practices for protection.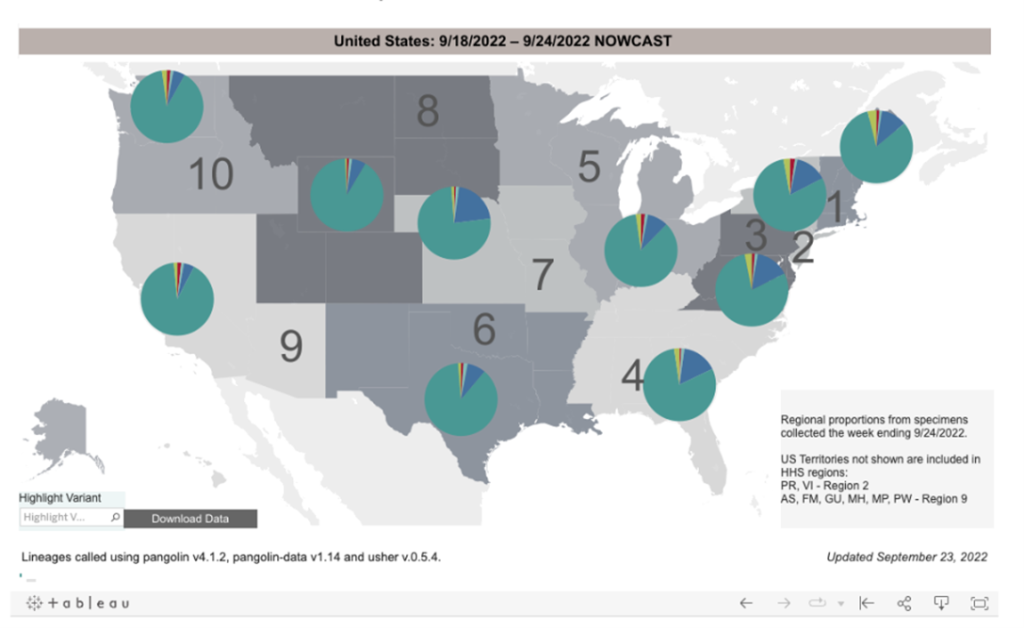 Risk Matrix: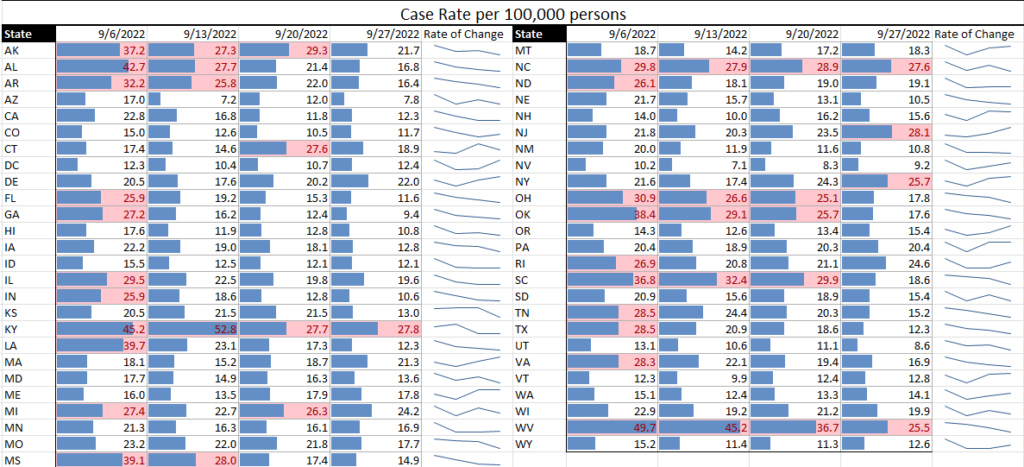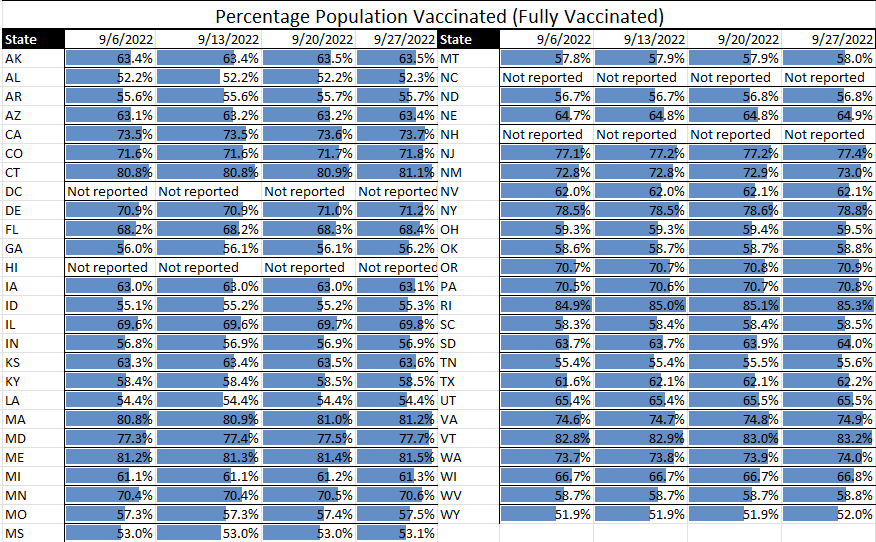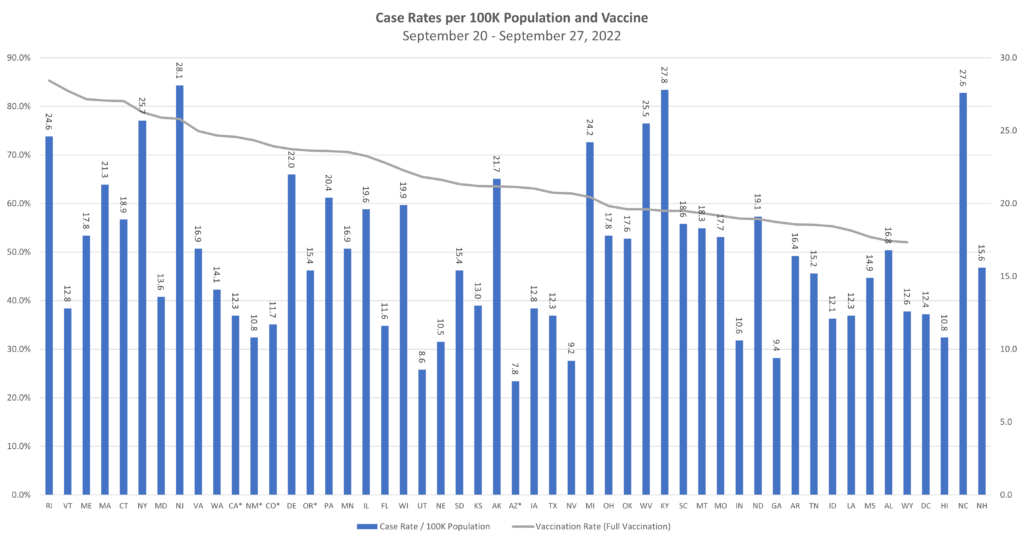 Monkeypox: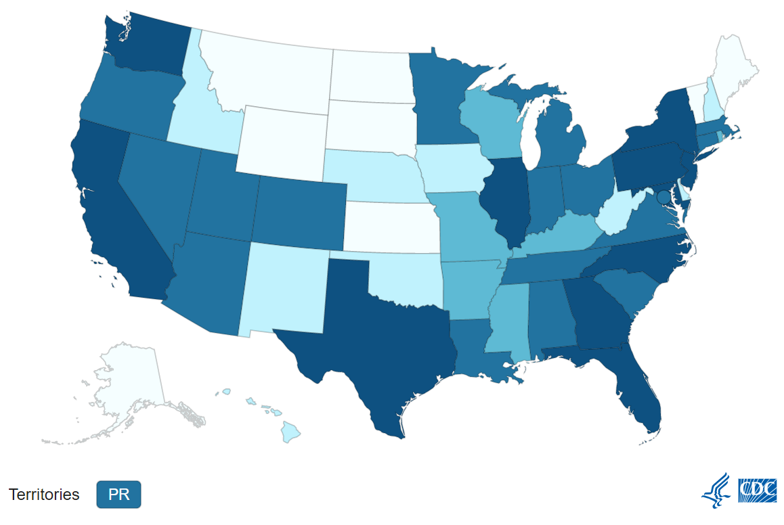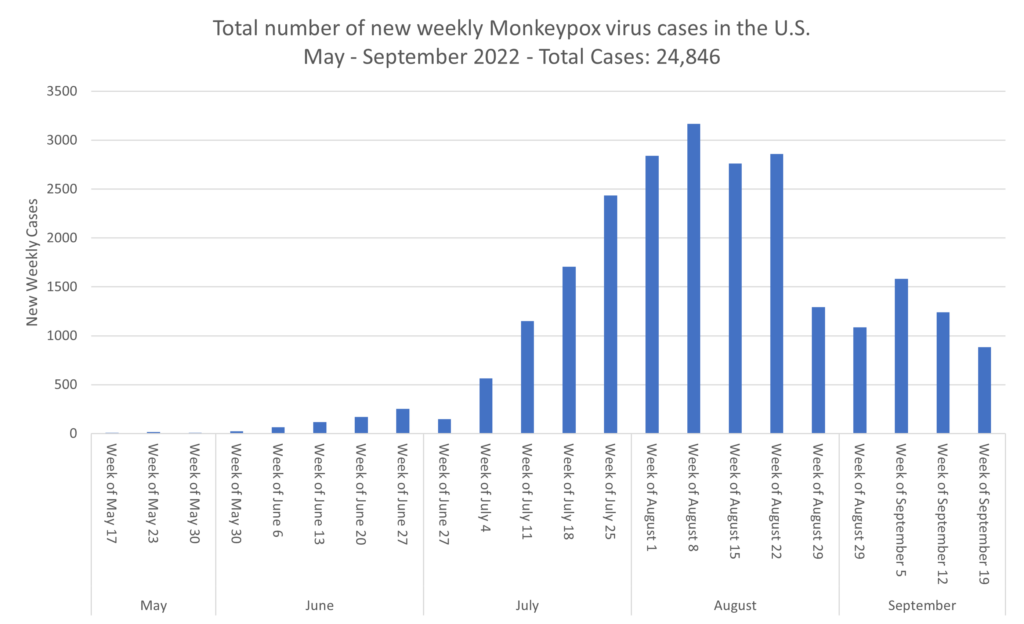 Influenza: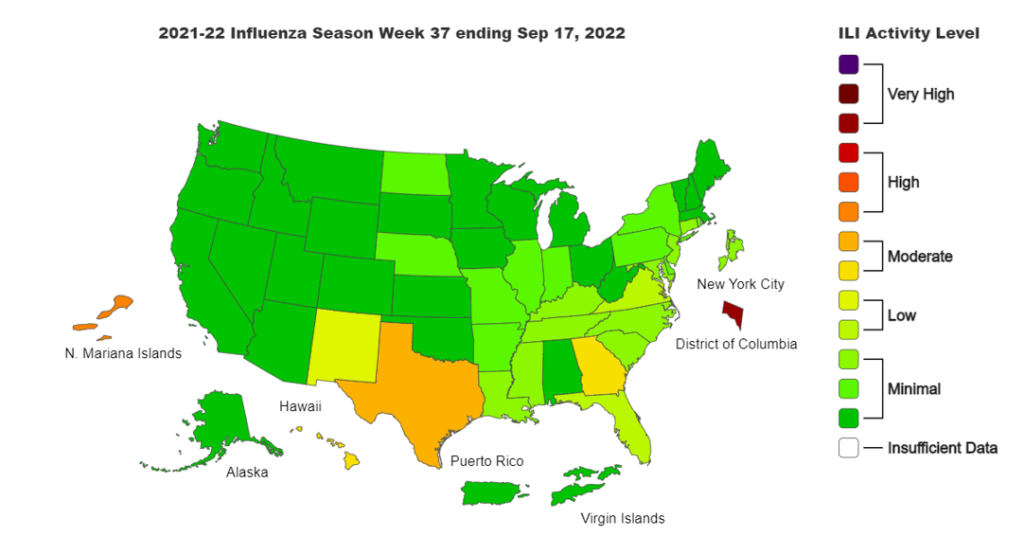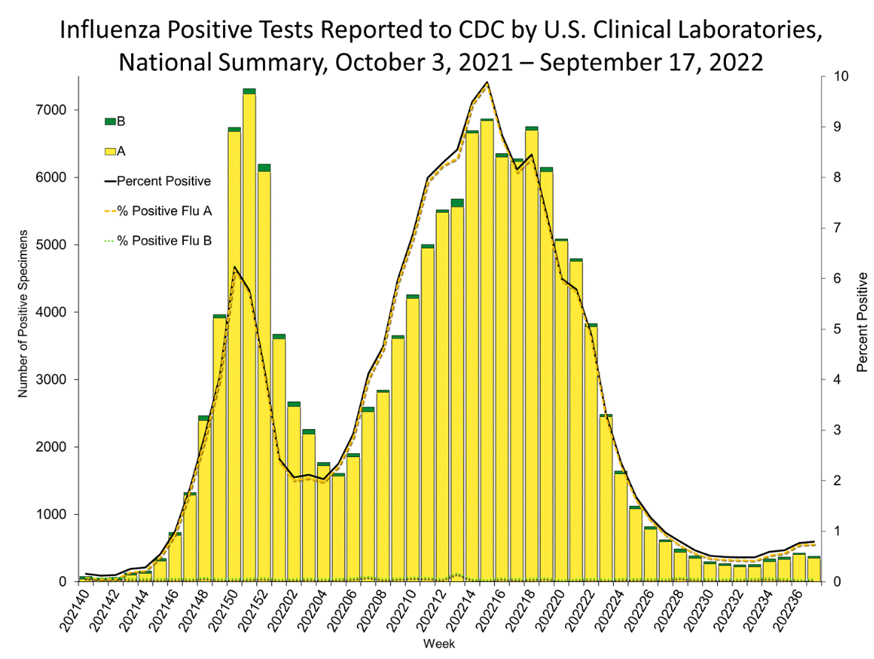 In case you missed it:
COVID
Monkeypox
Global monkeypox cases drop 22%. Steady drops in new monkeypox cases continue in North America and Europe, resulting in a 22% overall decline in cases reported in the last week. There are 5 more global deaths since the WHO's previous report on Sep 7, raising the total to 23 (of the deaths, 14 are from African countries). In the past week, 23 nations have reported increases in cases, with Chile reporting the most significant jump. Three countries have reported their first cases, Guam, Bahrain, and Ukraine. The WHO director-general said 105 countries have reported 62,000 confirmed cases of the virus but underscored the direction of falling cases.
Food Safety & Public Health