Key Points:
COVID
In today's Recommendation for Industry, we discuss norovirus cases. Read more below.
Updated COVID booster tied to strong Omicron immune response. The new bivalent (two-strain) Moderna COVID-19 vaccine booster triggered stronger neutralizing antibody responses against the highly transmissible Omicron variant at 28 days than the previously authorized booster. The bivalent booster generated antibody geometric mean concentrations (GMCs) of 727.4 (95% CI, 632.8 to 836.1) and 492.1 (95% CI, 431.1 to 561.9) against the Omicron BA.4 and BA.5 subvariants, respectively (GMT ratio, 1.69; 95% CI, 1.51 to 1.90). The newer booster also produced greater binding antibody responses against previous strains such as Alpha, Beta, Gamma, and Delta (GMT ratios, 1.11 [95% CI, 1.03 to 1.19] to 1.24 [95% CI, 1.14 to 1.35]). Over median follow-ups of 43 days for the bivalent booster and 57 days for the monovalent version, rates of adverse events within 7 days of vaccination were similar, and most were mild or moderate. In both groups, the most common local reaction was pain at the injection site, while the most common systemic reactions were fatigue, headache, and muscle and joint pain. A total of 18.5% of the bivalent group and 20.7% of the monovalent group experienced adverse events 28 days or more after the second booster. Of those, 5.7% and 5.8%, respectively, were considered vaccine-related, and none were severe.
Biden says 'the pandemic is over' even as death toll, costs mount. "We still have a problem with COVID. We're still doing a lotta work on it. But the pandemic is over. If you notice, no one's wearing masks. Everybody seems to be in pretty good shape. And so I think it's changing," Biden stated. Nearly 400 people a day continue to die from COVID-19 in the United States, according to the U.S. Centers for Disease Control and Prevention. Biden has asked Congress for $22.4 billion more in funding to prepare for a potential fall case surge.
When should I get the Omicron booster? Will I need COVID shots forever? The Centers for Disease Control and Prevention is recommending that all teenagers and adults get an updated coronavirus booster shot designed to target both the original virus and the omicron variant circulating now. You're eligible to get the updated booster shot if you're 12 or older and it has been at least two months since your initial vaccine or your last booster. Older Americans, those with chronic illnesses and people who are immunocompromised or pregnant should get the updated booster shot as soon as possible. The CDC doesn't expect side effects for the updated booster shot to differ from those associated with the current vaccines, which include redness and swelling where the shot was administered, as well as occasional fatigue, headache, and muscle soreness. The CDC says people who recently had a COVID-19 infection should consider waiting three months from their first symptoms, or positive test, before getting a booster shot. According to the CDC, young men who recently got the monkeypox vaccine, called Jynneos, might want to wait four weeks before getting any coronavirus vaccine. You can get the flu vaccine and a coronavirus vaccine or booster at the same time. But some experts said that to get maximum flu protection, you should get the coronavirus booster now and your flu shot in late October or early November. It is believed that there will be another booster in the fall of 2023 as well and that Americans will only need a booster once a year.
Monkeypox
Florida infant, New Hampshire child contract monkeypox. Contracted from household surfaces and contacts, two children have been recently diagnosed with monkeypox, one from Florida and the other from New Hampshire. To date, 27 confirmed cases of monkeypox have been in pediatric aged patients. The CDC currently reports a nation total of 23,499 cases. In a preprint study, researchers in Singapore report isolating viable monkeypox virus from surfaces and dust samples, but they obtained no viable virus from air and water samples from a patient's hospital room. A case report describes a possible tattoo-transmitted monkeypox infection in Italy. The patient reportedly got a tattoo in Spain in the 7 days prior to rash development. The rash developed where the tattoo needle was inserted.
Low risk of monkeypox spread noted in health workers. In a report today of 313 healthcare workers (HCWs) exposed to monkeypox in Colorado, none of them contracted the virus, despite few wearing the recommended personal protective equipment (PPE) or receiving postexposure prophylaxis (PEP) vaccination. Most encounters between HCWs and monkeypox patients were short, with 69% lasting only 5 to 30 minutes. Only one HCW was exposed for more than 3 hours. Only seven (2%) were exposed during an aerosol-generating procedure. The CDC announced the launch of a new initiative called the Monkeypox Vaccine Equity Pilot Program. The program allows local, state, and territorial health departments, as well as tribal governments and non-governmental organizations, to submit requests to access the monkeypox vaccine, and it aims to reach populations that may face barriers to monkeypox vaccination. In related news, both New York and Oregon recently expanded access to monkeypox vaccines to include anyone at risk of exposure (in New York), and anyone who anticipates having or has had recent skin-to-skin contact and who knows someone who has had monkeypox, regardless of sexual preference or gender (Oregon). Also yesterday, the CDC updated treatment guidelines for the use of the antiviral Tpoxx (tecovirimat), recommending the drug be limited to people at high risk for severe disease. "Consider severe disease when a patient has conditions such as hemorrhagic disease; large number of lesions such that they are confluent; sepsis; encephalitis; ocular or periorbital infections; or other conditions requiring hospitalization," the CDC said. Pregnant women and children over 8 years old should also be offered treatment.
Food Safety & Public Health
Reported from Healthmap.org:

Norovirus in the UK – cases of virus are 49 percent higher than what is expected of this time of year.  Settings of cases are increasing in care homes and educational settings such as schools, colleges, and universities. Reports of measles have been recorded due to lack of vaccination in Zimbabwe, Paraguay, Afghanistan, and one case in Australia (linked to travel).
One report stated that even if a child survives a case of measles, Harvard research shows that they may experience a phenomenon known as "immune amnesia" which wipes out existing immunity to other previous illnesses, leaving them even more susceptible to subsequent infections. This illustrates the need to work hard to combat this disease. The World Health Organization has activated its emergency response

Patient count grows in outbreak associated with Daily Harvest frozen crumbles. Federal officials continue to receive complaints of illnesses associated with frozen "Lentil & Leek Crumbles" sold by Daily Harvest. As of Sept. 15, the Food and Drug Administration had received 386 consumer complaints, up from 369 complaints reported on Aug. 25. Sick people have reported gastrointestinal illness and abnormal liver function, according to the FDA. Additionally, at least 25 patients had to have their gallbladders removed. Of known patients, 130 have required hospitalization. The company initiated a recall of its Lentil & Leek Crumbles on June 17.
Three dead in Austrian Listeria outbreak. Käserei Gloggnitz has recalled a number of products in relation to the incident. Käserei Gloggnitz's recall covers all kajmak, drinking yogurt and cream cheese products due to potential Listeria monocytogenes contamination. Kajmak is a type of cheese. Cluster analyses by the Austrian Agency for Health and Food Safety (AGES) found eight infections have occurred since 2020 due to an identical Listeria strain. Three people died between 2020 and 2022.
Recommendations for Industry
Norovirus Cases Up … and Down
The UK is seeing norovirus cases at a rate that is 49% higher than what is expected for this time of year, with the increases primarily being seen in care homes and schools, including colleges and universities, according to a UK Health Security Agency report. The reports of outbreaks in educational settings are higher than during the same period in the five pre-COVID seasons.
On the other hand, UK cases in hospital settings have remained "notably lower," and in the U.S., cruise ships have reported far fewer gastrointestinal illnesses than in pre-pandemic years, with only two outbreaks reported to the CDC in 2022, one of which was determined to be norovirus. The other was undetermined (Washington Post). CDC said the decrease could "most likely be attributed" to the combination of fewer passengers and "nonpharmaceutical interventions used by cruise ships to mitigate COVID-19 transmission, such as increased cleaning and disinfection, increase in the number of hand sanitizer stations, crew served buffets, and physical distancing."
With hospitals generally having intensive sanitation practices and interventions, and cruise ships continuing to implement those of the pandemic, there is a lesson to be learned for businesses. The pandemic taught us benefits of health interventions such as increased handwashing, maintaining distance (e.g., workers staying home when ill), masking (now as a voluntary action in most situations), etc. So, continuing to monitor worker health and implement such protections when and where needed – particularly as we approach flu season and see norovirus on the rise among students (who may be working at your facility?) – has become a common factor of the working world, and simply good business.
In case you missed it:
COVID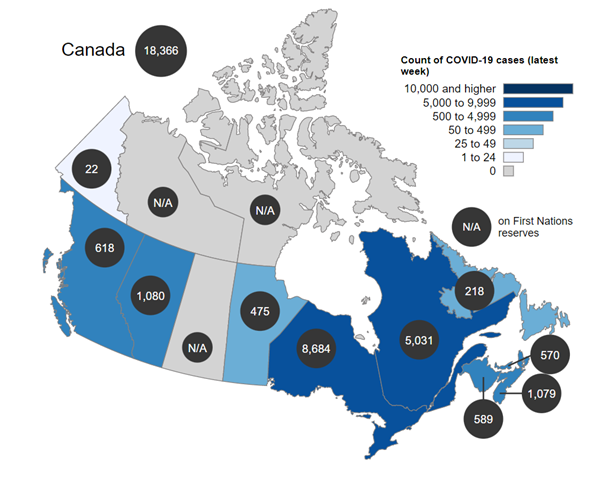 Monkeypox
CDC head says monkeypox slowing in US. The US continues to have the world's largest monkeypox outbreak, with 22,630 cases confirmed by the CDC recorded throughout all 50 states. Weekly global cases have declined 3.2% last week, with the most cases reported from the Americas and Europe. The country reporting the highest increase in the past week was Mexico. In the past week 24 countries reported an increase in the weekly number of cases. In contrast, 33 countries have reported no new cases in the past 21 days.
Two US cases of monkeypox-related brain inflammation raise concern. Two US monkeypox patients developed encephalomyelitis—inflammation of the brain and spinal cord—in the week after symptom onset, one in Colorado and one in Washington, DC, suggesting neurologic complications are a potential outcome of monkeypox infections. The first case of encephalomyelitis was in an immunocompetent gay man in his 30s in Colorado, with no known monkeypox exposure or international travel. According to the authors, 9 days after symptom onset of fever and rash, the patient developed progressive left arm and leg weakness and numbness, urinary retention, and intermittent priapism, and was hospitalized. He was treated with Tpoxx and released with an assistive walking device. The patient in Washington, DC, was also an otherwise healthy gay man in his 30s who similarly had no known monkeypox virus (MPXV) exposure or recent travel. Five days after typical monkeypox symptoms began, he developed bowel and bladder incontinence and progressive flaccid weakness of both legs and was hospitalized. The patient's condition worsened, and he was intubated and admitted to the intensive care unit. He was treated and released from the hospital with an assistive walking device. Though rare, such outcomes were seen centuries ago during smallpox outbreaks. A severely immunocompromised man died from monkeypox infection in Los Angeles County, officials announced today. This is the first death in the country that has been confirmed due to the virus. The first reported death in Texas is still under investigation.
Food Safety & Public Health
Patients in outbreak from HelloFresh meal kits spread from Washington to New Jersey. Seven people across six states are sick with E. coli linked to the ground beef in the HelloFresh meal kits. The patients are located in Washington, Pennsylvania, New York, Virginia, Maryland, and New Jersey. Six of the seven individuals have been hospitalized as a result of the bacterial infection.  If you have the following food products, throw them away and do not consume them: 10-oz. plastic vacuum-packed packages were distributed in a variety of HelloFresh meal kits. The beef was labeled "GROUND BEEF 85% LEAN/15% FAT"; Packages have "EST.46841" inside the USDA inspection mark and "EST#46841 L1 22 155" or "EST#46841 L5 22 155" on the side of the packaging.
Ethylene oxide and Salmonella feature in major FSA incidents. The FSA was notified of 2,336 food and feed safety incidents in England, Northern Ireland, and Wales during 2021/22. This is an 18 percent increase compared to 1,978 alerts in 2020/21 but is similar to data in pre-COVID-19 pandemic years. The top four hazard types in 2021/22 were pathogenic microorganisms, allergens, poor and insufficient controls, and pesticide residues. The ethylene oxide issue has been ongoing since September 2020, where it began in sesame seeds from India. There were 129 ethylene oxide incidents in the UK from April 2021 until March 2022. For allergen incidents, root cause analysis data showed labeling verification checks were the top contributor, followed by labeling declaration and procedures not followed. Ingredient cross-contamination, cleanliness or sanitation and ingredient hygiene controls were the main root causes in pathogen incidents. Salmonella dominated while Listeria decreased slightly.