Each fall, we hear about flu cases beginning to increase, and public health expert advice to be vaccinated. Although it is impossible to provide an exact count of annual influenza cases, at least in part because it is not a nationally notifiable disease in the US except when it is related to the death of a child under 18 or is a human case of the novel A virus. In spite of that, CDC estimated that flu resulted in 9 million-41 million illnesses, 140,000-710,000 hospitalizations and 12,000-52,000 deaths annually between 2010 and 2020.
How does the CDC arrive at that estimate? It's all based on a mathematical model that uses data, extrapolations, and estimates to determine the numbers of influenza illnesses, medical visits, hospitalizations, and deaths in the United States, as well as the impact of influenza vaccination on these numbers.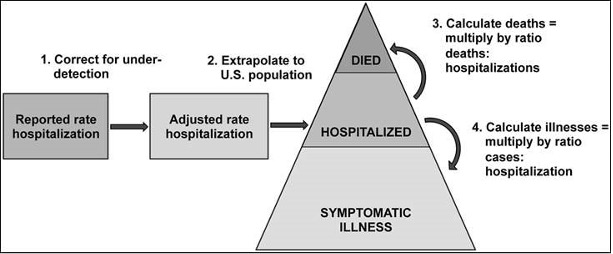 The methodology, used to retroactively calculate influenza burden going back to 2010, as outlined in the diagram above from the CDC, includes the following:
Laboratory-confirmed influenza-associated hospitalization rates are obtained from the collaborative Influenza Hospitalization Surveillance Network (FluSurv-NET), which includes hospitals across the U.S. that serve roughly 9% of the U.S. population.
The rates are then adjusted to correct for under-detection of influenza by using the percent of persons hospitalized with respiratory illness who were tested for influenza and the average sensitivity of influenza tests used in the participating hospitals. Adjusted rates are applied to the U.S. population by age group to estimate the total number of influenza-associated hospitalizations.
The numbers of influenza illnesses are then estimated from hospitalizations based on the previous measurement of how many illnesses there are for every hospitalization.
Because not all people with influenza seek medical care, CDC uses the 2010 Behavioral Risk Factor Surveillance Survey to estimate the number who did. This system collects information about health-related risk behaviors, chronic health conditions, and use of preventive services.
It is recognized that influenza is underreported on death certificates, so the model uses a ratio of deaths-to-hospitalizations to estimate the total influenza-associated deaths from the estimated number of influenza-associated hospitalizations. The number of in-hospital deaths observed in FluSurv-NET are adjusted for under-detection of influenza using methods similar to those for hospitalizations using data on the frequency and sensitivity of influenza testing.
Because not all influenza-related deaths occur in the hospital or are reported on death certificates, death certificate data (including pneumonia or influenza causes, other respiratory and circulatory causes, or other non-respiratory, non-circulatory causes of death) are used to estimate how likely deaths are to occur outside the hospital. Information on the causes of death from FluSurv-NET are used to determine the mixture of these to include in the investigation.
Once the proportion of influenza-associated deaths that occurred outside of the hospital is estimated, a deaths-to-hospitalization ratio can be calculated. It is important to note, however, that data needed to estimate influenza-associated deaths may lag for up to two years after the season ends. 
COVID Risk Matrix:

Influenza: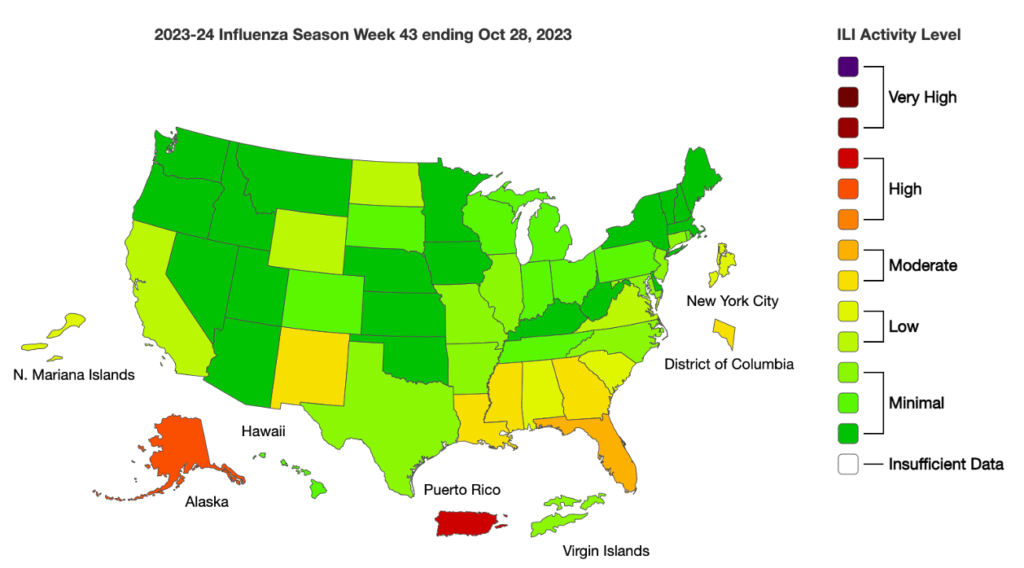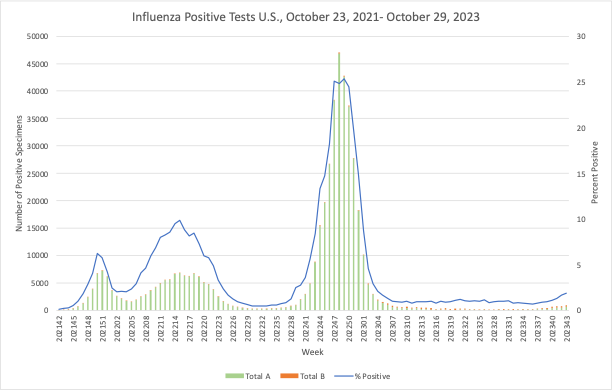 The CDC has announced they will be expanding testing of international travelers beyond Covid-19. Flu, RSV, and other select respiratory viruses will be tested under a pilot program with the Traveler-based Genomic Surveillance (TGS) for several months. As of September 2023, TGS has enrolled more than 360,000 travelers. Positive cases will be uploaded to the public databases to provide information to public health officials and policy makers. The program covers more than 135 countries.