Fall is just around the corner, which generally means an uptick in infectious respiratory diseases, including (yes, again) COVID. One particularly acute example of this is the upward slope of COVID cases, as depicted by the data, below, from the Twin Cities Wastewater study (as discussed in a previous TAG article). Because we would expect this to continue to increase, we see it as a good time to start making preparations to be ready when COVID and other respiratory disease cases rise in your area.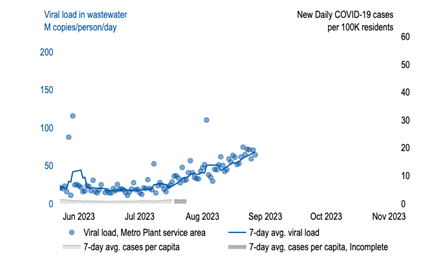 One particular action to take is ensuring you have COVID tests on hand – that are not expired. Test kits are available at drugstores, pharmacies, and some online-direct sites. Although the U.S. government is no longer providing free kits, the Covid.gov website does include links to low- or no-cost testing centers; test kit purchases can be reimbursed by most FSA programs; and some state governments are still providing free kits. Check with your state health department to determine if yours does. For more information on when you should test, how to read the results, and other frequently asked questions, visit FDA's "At-Home COVID-19 Diagnostic Tests FAQ" webpage.
Earlier this year, FDA also authorized an over-the-counter at-home test that detects both influenza and COVID-19 viruses. The kit holds a single-use at-home test that provides results from self-collected nasal swab samples in about 30 minutes. While it's not inexpensive, it can be worth the cost for those who have symptoms simulating both viruses and would like to determine if they are positive for Influenza A, Influenza B, or COVID with a single test.
With COVID having reached endemic status, we can expect to be dealing with it, influenza, and other respiratory diseases all at once. And with these viruses having such similar symptoms, testing is an integral part of treatment and renewed health.
COVID Risk Matrix:

Influenza: