Influenza is continuing to spread across the U.S. and has been declared an epidemic in Canada, and, like COVID, it's not just a single variant that is spreading. As detailed by CDC, there are four types of influenza viruses: A, B, C and D:
A and B viruses cause seasonal epidemics (i.e., flu season) almost every winter in the U.S., but A viruses are the only ones known to cause global pandemics.
C virus infections generally cause mild illness and are not thought to cause human epidemics.
D viruses primarily affect cattle and are not known to infect or cause illness in people.
The CDC graphic shows the two types of influenza viruses (A and B) that cause most human illness. Each is further divided into subtypes (A)/lineages (B), then into clades and sub-clades (or groups and sub-groups), as shown in the examples in the graphic.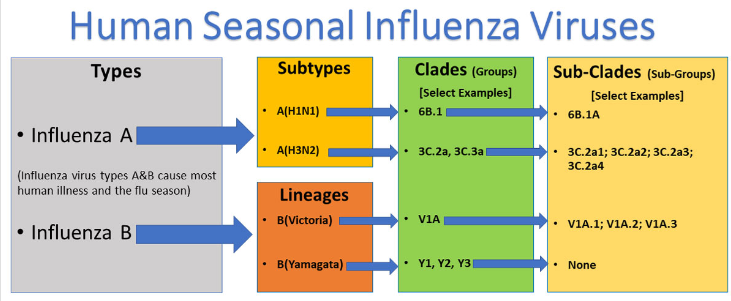 To further explain: The current subtypes of A that routinely circulate in people include A(H1N1) and A(H3N2). Flu viruses have hemagglutinin (H) and neuraminidase (N) surface proteins which act as antigens: molecular structures on the surface that are recognized by the immune system and can trigger an immune response (such as antibody production).
When two flu viruses are antigenically different (i.e., of different subtypes, e.g., H vs. N), a person's immune response (antibodies) from having one will not develop immunity and protect against the other. However, infection from one H or N virus will help protect against others of the same subtype. Additionally, influenza A(H3N2) viruses also change both genetically and antigenically, and have formed many separate, genetically different clades in recent years that continue to co-circulate.
To combat as many variations as practical, seasonal flu vaccines are formulated to protect against influenza viruses known to cause epidemics, including: one influenza A(H1N1) virus, one influenza A(H3N2) virus, one influenza B/Victoria lineage virus, and one influenza B/Yamagata lineage virus. So, getting a flu vaccine can protect against these viruses as well as additional flu viruses that are antigenically similar.
Overall, influenza A(H3N2) infection is generally more severe than A(H1N1) or B in terms of fever, leukopenia, and C-reactive protein. Myalgia and other symptoms such as fever, headache, general malaise, and sore throat were equally frequent in influenza A(H3N2), A(H1N1), and B infections. Gastrointestinal symptoms were more common in influenza B.
The composition of the U.S. flu vaccine is reviewed and updated annually. The FDA recommendations for this year's vaccine compositions included updates for H3N2 and B/Victoria, along with continued protection again H1N1 and B/Yamagata. Current data from public health laboratories monitoring the proportion of circulating viruses show 99.9% to be Influenza A, with 77.2% being H3N2 and 22.8% being H1N1, the vaccine is expected to be very protective against the current strains.
COVID Risk Matrix: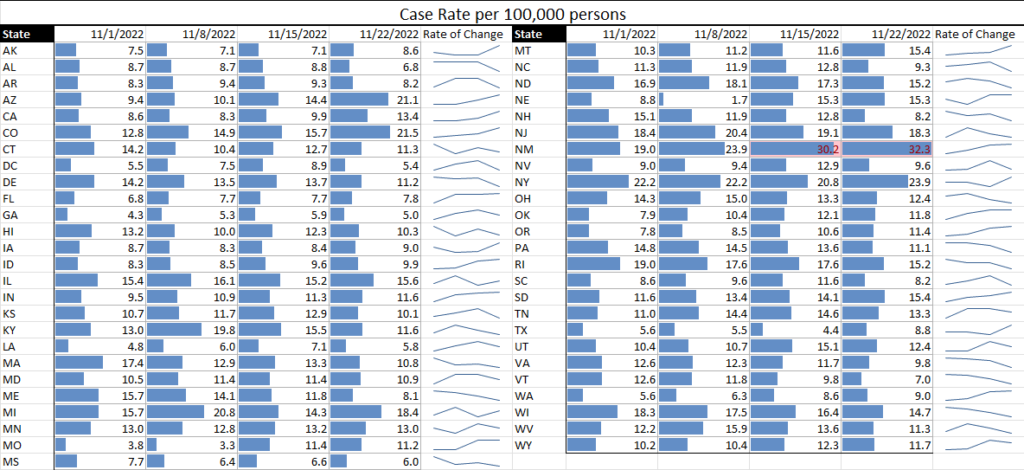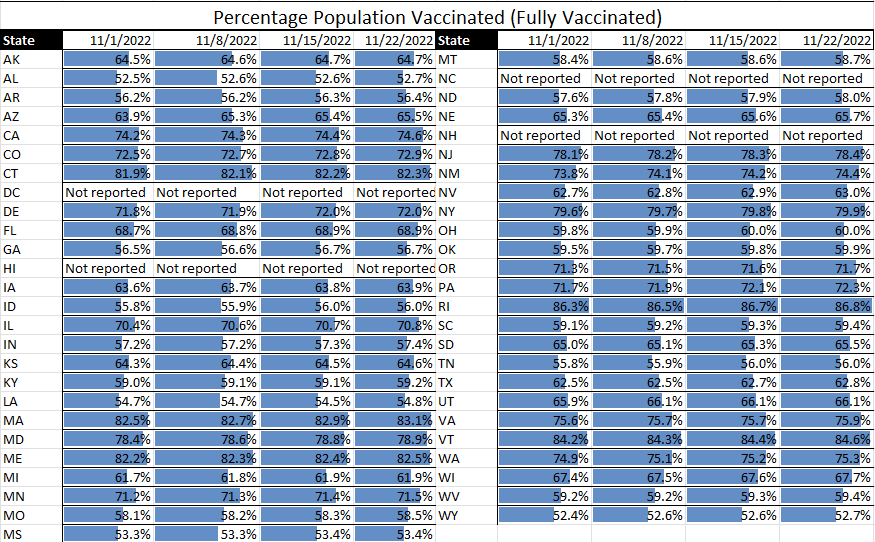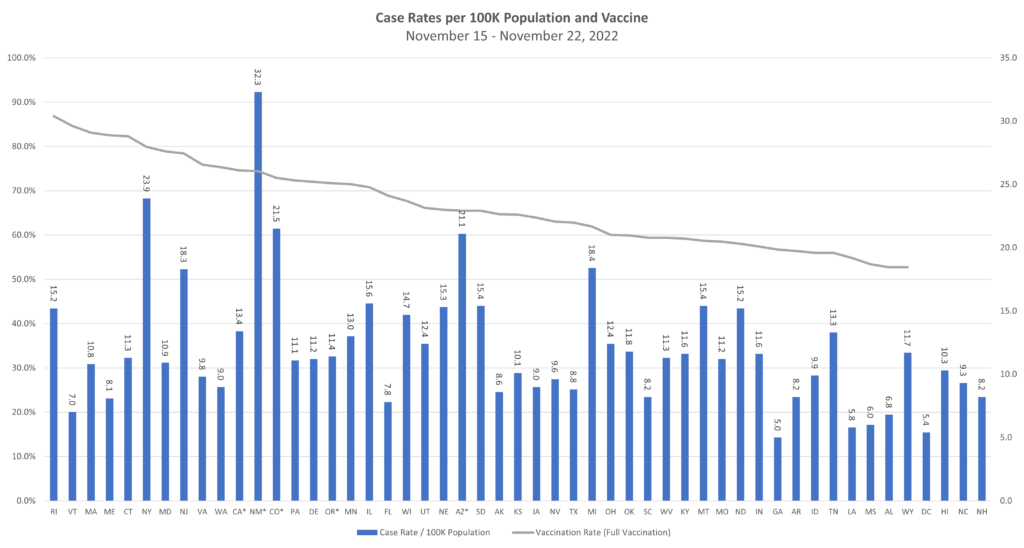 Monkeypox: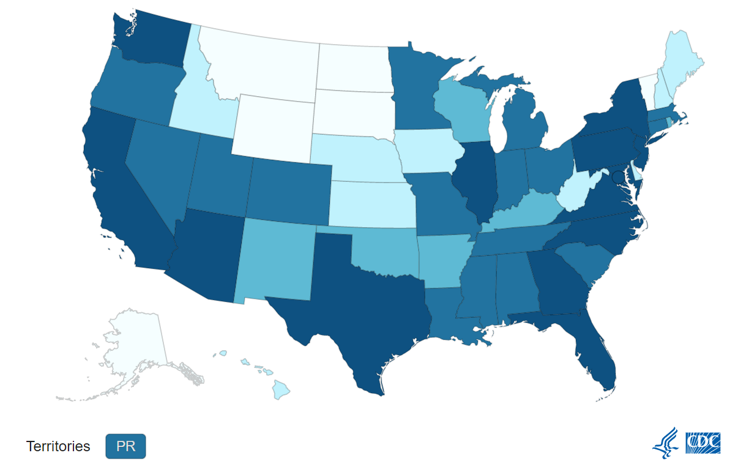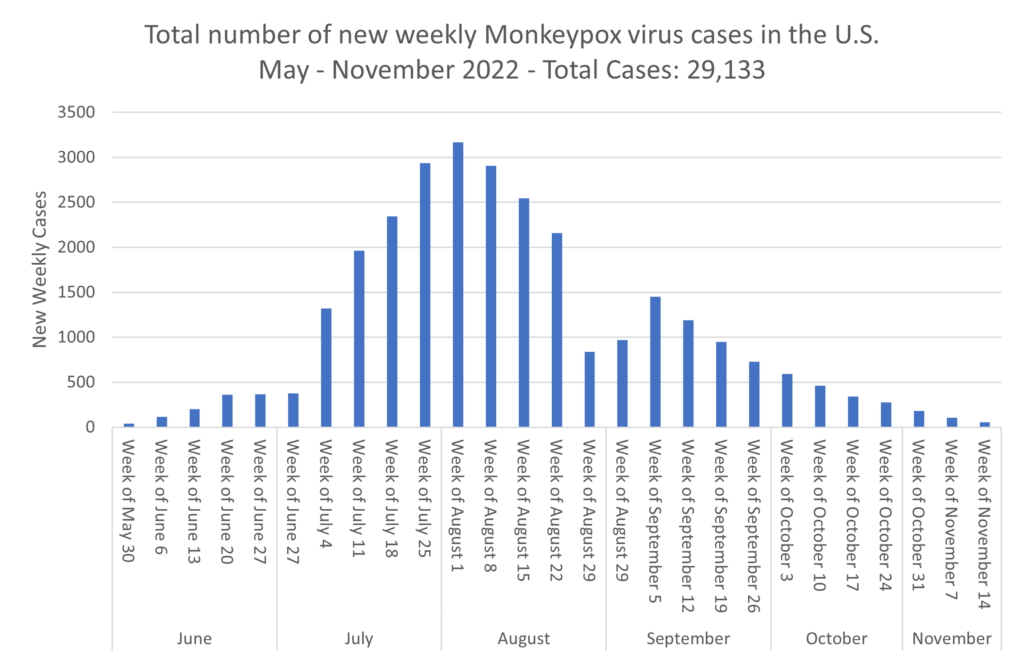 Influenza: