In September 2020, CDC launched a National Wastewater Surveillance System (NWSS) to help track the presence of SARS-CoV-2, the virus that causes COVID-19. But it is not the first time that wastewater testing has been used to track disease through detection of pathogens in human waste. In fact, the concept can be traced back at least to the 1940s when epidemiologists used wastewater to track and contain US disease outbreaks, particularly polio. Since then, wastewater surveillance has been used on an increasing basis as a predictive tool for tracking emerging diseases.
As explained by CDC in discussing its use for COVID, wastewater surveillance can provide an early warning of disease spread in communities. Infected persons can shed viruses in their feces even if they don't have symptoms, which can then be detected in wastewater. Surveillance can then serve as an early warning to health departments that a virus is spreading, and the community can act quickly to help prevent the spread.
A recent University of Michigan study shows how a wastewater testing system is being used to detect a number of viruses (including mpox, influenza-A, norovirus GII and respiratory syncytial virus [RSV]) in five area cities. As an example, on March 17, the data, which is collected regularly and reviewed by health officials during biweekly meetings, showed that Ann Arbor, Flint, Jackson, Tecumseh and Ypsilanti had the lowest of four levels of RSV and influenza-A, while Norovirus levels were the highest of four levels in all five communities and COVID levels had some variation.
While this study focused specifically on UM-area cities, the CDC data is nationwide, and we are seeing surveillance being conducted in other areas as well – both US and global. With its ability to detect emerging disease spread, we expect wastewater surveillance to continue to expand, with more cities, states, universities, etc. tracking data. While we've not seen a publicly available compilation of surveillance efforts, keeping an eye out for initiatives in your community can help increase your awareness – and protective efforts against – emerging disease.
COVID Risk Matrix: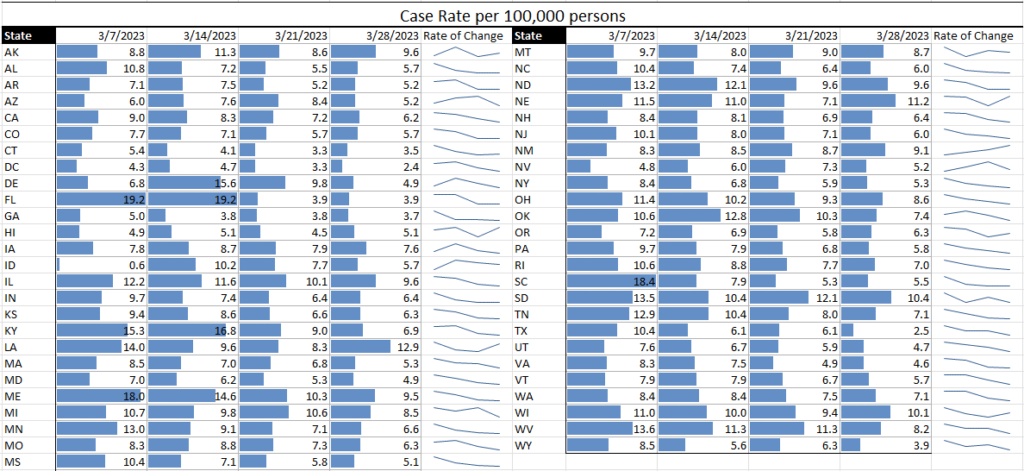 Influenza: