In our continuing tracking of infectious diseases, TAG is seeing a number of areas of which businesses need to be aware, with particular focus on those which are most prevalent in the states in which you operate (as seen in TAG matrices below). Additionally, for Hepatitis A, Influenza, COVID, and Measles, a key preventive tactic is vaccination.
Hepatitis A. The outbreak is ongoing, continuing to impact the states in which it has been seen in recent weeks. In fact, according to CDC, the US has been experiencing an ongoing Hep A outbreak since about 2017 with the primary transmission route being person to person and not from foods. Because of this and the recent upsurge, it is important that businesses with operations in states where it is endemic be aware of the transmission and ensure wellness checks are being conducted and encourage vaccinations.
Influenza. With many U.S. states already in CDC's "very high" levels of cases – levels typically not seen until late December, TAG is predicting that we will see a huge flu season this year. Encouraging, or even providing, employee vaccinations continue to be an essential aspect of prevention.
COVID. The U.S. is starting to see an upward trend in COVID cases, transmissions, and hospitalizations, even in states that were seeing downward trends. While the nation is doing fairly well as compared with global rates, encouraging vaccination is, once again, key. The bivalent boosters currently being given have been shown to be highly effective against the current variants, as reported by CDC.
Measles. According to both the World Health Organization (WHO) and the US Centers for Disease Control and Prevention (CDC), measles is currently spreading in various regions of the world as the COVID pandemic has led to a steady decline in measles vaccination rates and weakened surveillance of the disease. As stated in the joint WHO/CDC report, a record high of nearly 40 million children missed a measles vaccine dose in 2021 due to the pandemic. With measles being one of the most contagious human viruses, but is almost entirely preventable through vaccination, the organizations are highly encouraging public health officials to accelerate vaccination efforts and strengthen surveillance, to help ensure that all unprotected children be immunized.
Monkeypox (mpox). As seen in today's key points, the WHO has selected mpox as the replacement reference for monkeypox to reduce the associated stigma. With the decline of the disease to near zero in the U.S. and the CDC's diminished frequency of reporting, TAG will continue tracking its cases internally but will discontinue our reporting – unless there should be a significant turn in cases.
COVID Risk Matrix: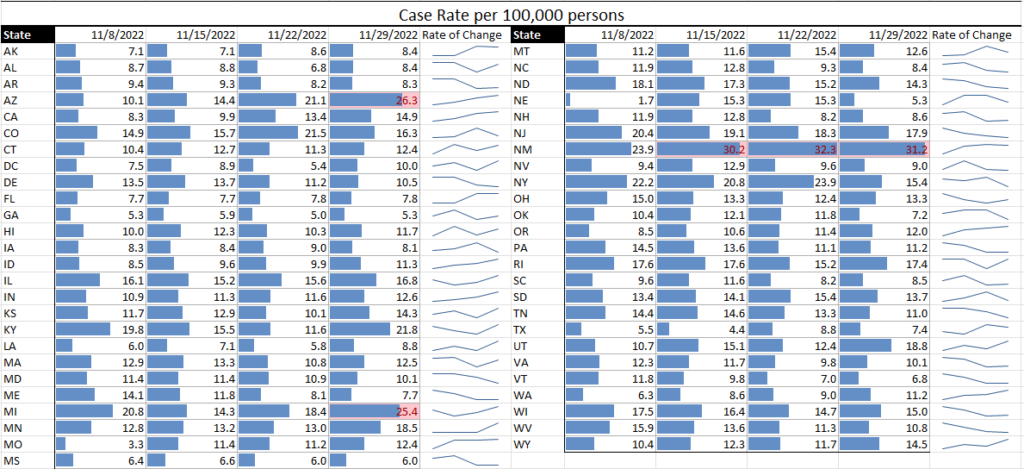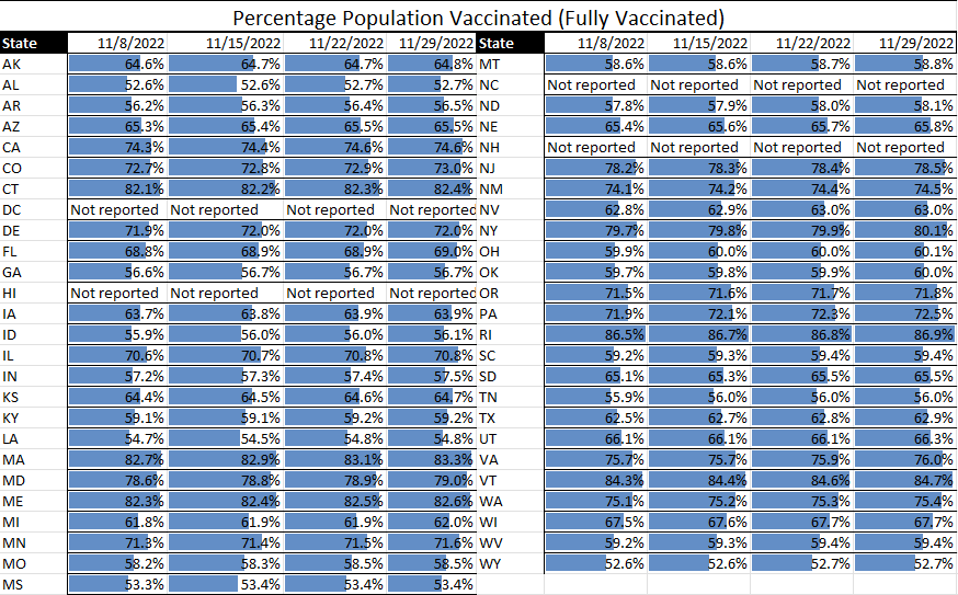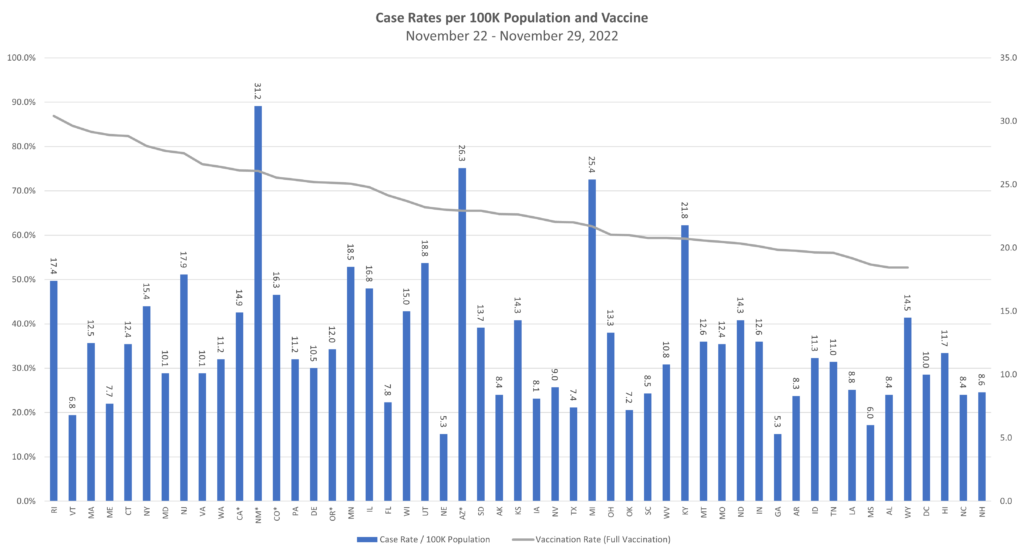 Monkeypox: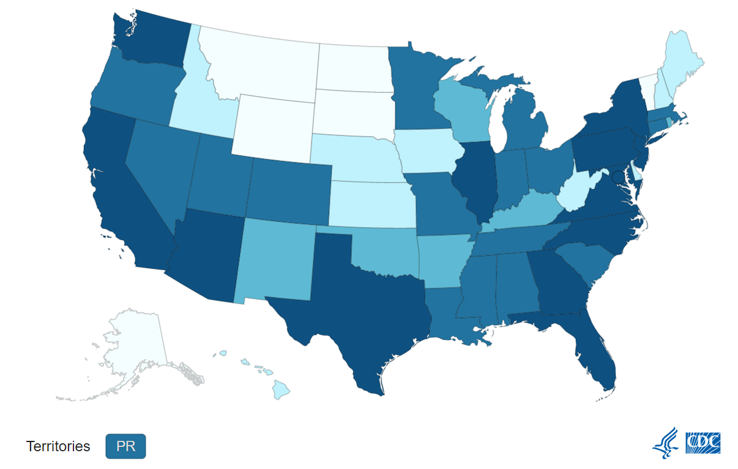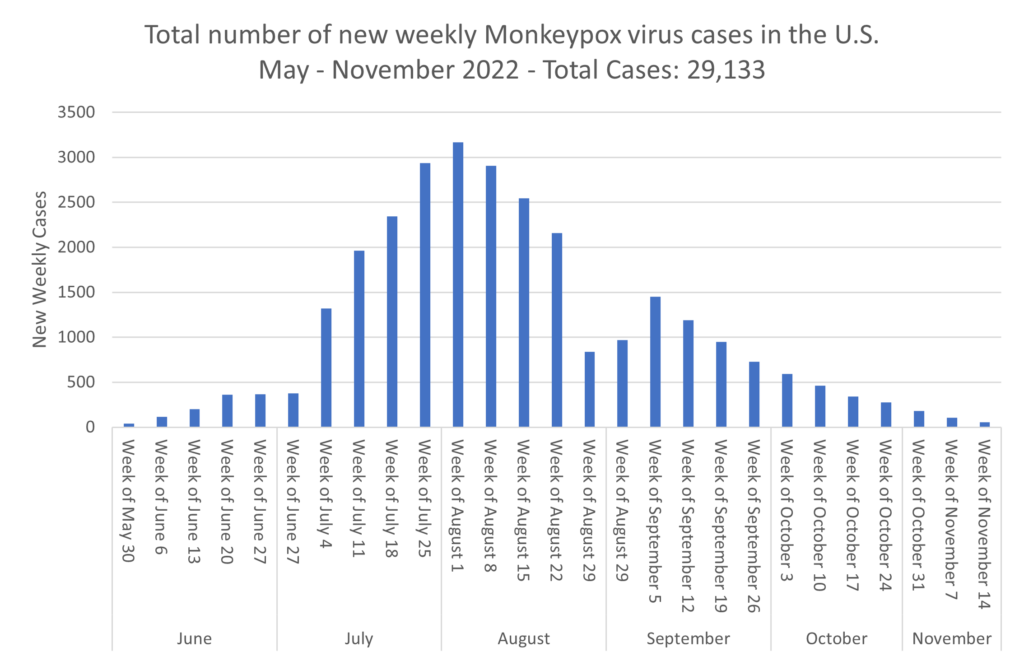 Influenza: