Key Points:
COVID
In today's Recommendation for Industry, we discuss the return of norovirus and its spread through insufficient handwashing. Read more below.
COVID booster adds substantial protection against Omicron hospitalization. Three doses of an mRNA COVID-19 vaccine during a time of Omicron variant predominance were tied to a 59% lower odds of hospitalization than two doses, although protection waned over time, finds a US case-control study published late last week in JAMA. Compared to people who only had their initial vaccinations, people with boosters were a lot less likely to have severe COVID for 4-5 months after the booster shot. The authors said that even if the added protection of a third dose wanes over time, the overall risk of hospitalization among vaccinated patients is still low.
European countries see early signs of autumn COVID-19 rise. In Britain, Susan Hopkins, MBBCh, chief medical officer at the Health Security Agency, in a statement yesterday said COVID-19 rates are still low, but data from the past 7 days shows a rise in hospitalizations and a rise in positive tests reported from the community. In the United States, the Omicron subvariant proportions continue to shift, with BA.5 decreasing slightly again, from 84.6% to 83.1% over the past week, the Centers for Disease Control and Prevention (CDC) said today in its weekly update. Proportions of two subvariants are growing, though their numbers are still small. Levels of BA.2.75 increased from 1.0% to 1.4%, and BF.7 increased from 1.6% to 2.3%. Nationally, COVID markers are still trending downward, the CDC said today in an overview. The 7-day average for new daily cases is 54,186, down 10.6% compared to the previous week. The weekly average for new hospitalizations for COVID declined 9.9% last week, and weekly deaths dropped 12.2%. Since the first week of September when doses of the new updated booster rolled out, 4.4 million people have received it, the CDC said.
Collected from HealthMap.org, China reports that COVID is still considered worse than flu because it infects a larger % of the population, it seems to mutate more easily evading immunity, and the death toll is likely going to continue to be higher.
Monkeypox
Global monkeypox cases drop 22%. Steady drops in new monkeypox cases continue in North America and Europe, resulting in a 22% overall decline in cases reported in the last week. There are 5 more global deaths since the WHO's previous report on Sep 7, raising the total to 23 (of the deaths, 14 are from African countries). In the past week, 23 nations have reported increases in cases, with Chile reporting the most significant jump. Three countries have reported their first cases, Guam, Bahrain, and Ukraine. The WHO director-general said 105 countries have reported 62,000 confirmed cases of the virus but underscored the direction of falling cases.
Food Safety & Public Health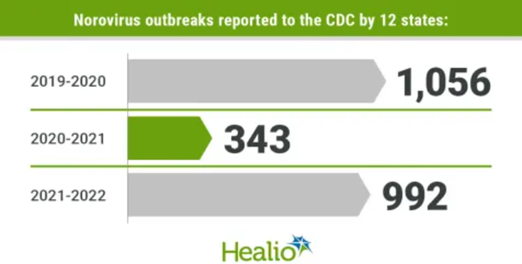 Recommendations for Industry
Norovirus Returning: Time is of the Essence for Handwashing
With CDC data showing norovirus having returned to those of pre-pandemic levels, both CDC recommendations and the Grand Canyon outbreak (in Key Points, above) show the value of proper handwashing. Not only do many (if not most) people wash for too little time, replacing handwashing with hand sanitizer is proven ineffective against norovirus.
How do you instill proper handwashing procedures and time in your workers?
While wetting the hands, adding soap, rubbing, and rinsing is fairly well imbedded in most people's minds for handwashing, doing so for a full 20 seconds is less common. One way to encourage workers to stay scrubbing longer is the use of a timer:
There are various timers that can be located at handwashing stations. Some are touchless, initiated by waving a hand in front of it, some have alerts for each handwashing step, some have 20-second countdowns with music or ending beeps, and some are integrated with the soap dispenser or faucet, automatically starting when soap is dispensed/water turned on.
Some of today's watches include a handwashing timer. When the watch detects handwashing movement and running water, a timer pops up with a countdown timer. After 20 seconds, a chime sounds and a thumbs up symbol appears. Encourage workers who have these watches to enable the mode and use it regularly.
While your workers have good intentions for full and proper handwashing, 20 seconds can feel interminable or be difficult to determine when they're standing at the sink. Placing handwashing signage in the area as well as a timer can help them understand both the why and the complete how of proper hand hygiene.
In case you missed it:
COVID
In last Thursday's Recommendation for Industry, we discussed TAG's weekly updates on infectious disease and some further advice in reducing norovirus transmission. Read more here.
Canada to make ArriveCan optional, drop vaccine requirement at the border by Sept. 30. The federal government plans to drop the COVID-19 vaccination requirement for people who enter Canada by the end of September, the same day it ends random testing of arrivals and makes optional the ArriveCan app. The changes, for arrivals at land, air and seaports of entry, are planned for Sept. 30, but have yet to be finalized by cabinet. The mask requirement for people on trains and planes will remain. Most European countries dropped entry requirements related to COVID-19 before summer began, returning to prepandemic standards in a bid to welcome tourists after more than two years of widespread illness, lockdowns and stay-home orders. The United States requires all entrants to be vaccinated, and it is not known if the requirement will be lifted at the same time as Canada's.
Global COVID-19 cases stabilize as deaths drop. After a 5-week drop, global COVID-19 cases stabilized last week, though deaths continued to decline, the World Health Organization (WHO) said in its weekly update on the pandemic. Of more than 3.2 million new cases reported last week, the five countries reporting the most were Japan, the United States, South Korea, Russia, and China. Meanwhile, deaths declined 17% from the previous week, with countries reporting more than 9,800 fatalities to the WHO. Amid reports of shortages of Moderna's updated booster shots, the agency will soon release 10 million doses that were held back due to safety reviews at an Indiana plant that is bottling the packaging the product, according to the Washington Post.
Monkeypox
Monkeypox vaccines:

Portugal approves preventive monkeypox vaccination for risk groups. Portugal has received 2,700 doses of the Bavarian Nordic's (BAVA.CO) Imvanex vaccine in July and has started vaccinating close contacts. Portugal's health authority widened its monkeypox vaccination strategy to include preventive shots for groups most at risk and approved the use of smaller doses, an approach known as "dose-sparing", due to limited supplies

Hong Kong to start monkeypox vaccination on October 5. Hong Kong will launch a monkeypox vaccination programme for "high-risk groups" from Oct. 5 following the discovery of an imported case of monkeypox this month. Those groups include healthcare workers, laboratory personnel and people with "high-risk sexual practices" such as sex workers.
Food Safety & Public Health