Key Points:
COVID
In today's Recommendation for Industry, we discuss TAG's weekly updates on infectious disease and some further advice in reducing norovirus transmission. Read more below.
Canada to make ArriveCan optional, drop vaccine requirement at the border by Sept. 30. The federal government plans to drop the COVID-19 vaccination requirement for people who enter Canada by the end of September, the same day it ends random testing of arrivals and makes optional the ArriveCan app. The changes, for arrivals at land, air and seaports of entry, are planned for Sept. 30, but have yet to be finalized by cabinet. The mask requirement for people on trains and planes will remain. Most European countries dropped entry requirements related to COVID-19 before summer began, returning to prepandemic standards in a bid to welcome tourists after more than two years of widespread illness, lockdowns and stay-home orders. The United States requires all entrants to be vaccinated, and it is not known if the requirement will be lifted at the same time as Canada's.
Global COVID-19 cases stabilize as deaths drop. After a 5-week drop, global COVID-19 cases stabilized last week, though deaths continued to decline, the World Health Organization (WHO) said in its weekly update on the pandemic. Of more than 3.2 million new cases reported last week, the five countries reporting the most were Japan, the United States, South Korea, Russia, and China. Meanwhile, deaths declined 17% from the previous week, with countries reporting more than 9,800 fatalities to the WHO. Amid reports of shortages of Moderna's updated booster shots, the agency will soon release 10 million doses that were held back due to safety reviews at an Indiana plant that is bottling the packaging the product, according to the Washington Post.
Monkeypox
Monkeypox Vaccines:

Portugal approves preventive monkeypox vaccination for risk groups. Portugal has received 2,700 doses of the Bavarian Nordic's (BAVA.CO) Imvanex vaccine in July and has started vaccinating close contacts. Portugal's health authority widened its monkeypox vaccination strategy to include preventive shots for groups most at risk and approved the use of smaller doses, an approach known as "dose-sparing", due to limited supplies.
Hong Kong to start monkeypox vaccination on October 5. Hong Kong will launch a monkeypox vaccination programme for "high-risk groups" from Oct. 5 following the discovery of an imported case of monkeypox this month. Those groups include healthcare workers, laboratory personnel and people with "high-risk sexual practices" such as sex workers.
Food Safety & Public Health
Recommendations for Industry
Infectious Diseases on Positive Trend; Handwashing Remains Key Practice
TAG's Infectious Disease Update and Matrices (see graphs below) are showing all infectious diseases being tracked as being in positive states over the last week:
Monkeypox is on a definite decline in the U.S.
COVID continues to decline, with even hospital rates at fairly low levels
Flu is beginning to tick up in some states, such as Texas, New Mexico, Georgia and the Southeast, but it remains low in most of the country.
We are seeing other respiratory illness on somewhat of a rise, but that is fairly typical of the changing seasons. We would also expect flu to begin trending upward in other areas, but we're currently in a good situation there.
Norovirus. Earlier this week, we discussed the trending highs and lows of norovirus and recommendations for continuing to monitor worker health and implement protections. To expand on those recommendations, a study published recently by FDA risk assessors which focused on mitigation strategies for restaurants provides some targeted advice for all food establishments. Highlights of this work, which included modeled scenarios, found the following that can be considered for managing risks from norovirus:
Compliance with excluding ill employees at the first sign of symptoms and hand hygiene rules had the most impact on consumer illnesses.
Washing hands before donning and changing gloves efficiently reduces norovirus transfer. Proper handwashing has long been a key practice in maintaining food safety, and as this work shows, it continues to be critical in reducing transmission of both infectious and foodborne disease.
Restriction of food employees (removed from contact with food and food-contact equipment and utensils) needs additional provisions to be effective.
Surface cleaning and sanitizing has the least impact on consumer illnesses attributable to norovirus. Regardless it is still important to perform these practices correctly to minimize ither risks.
Risk Matrix: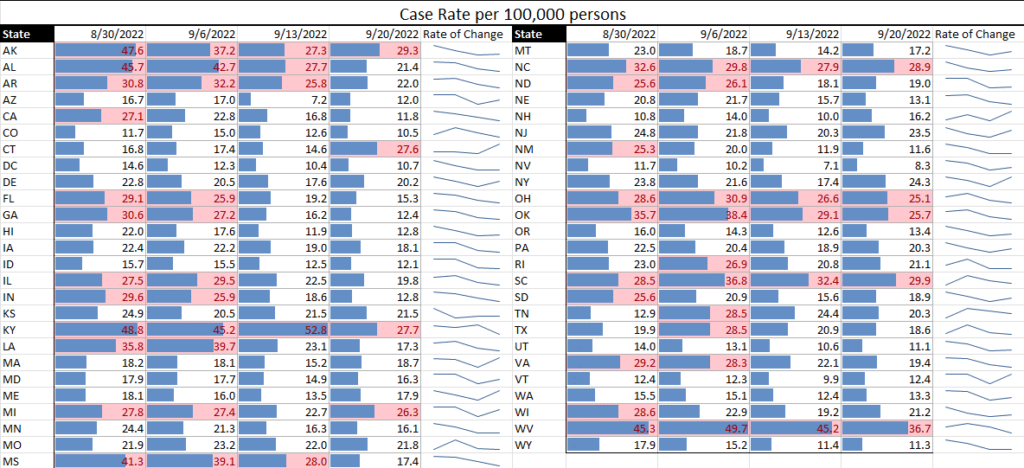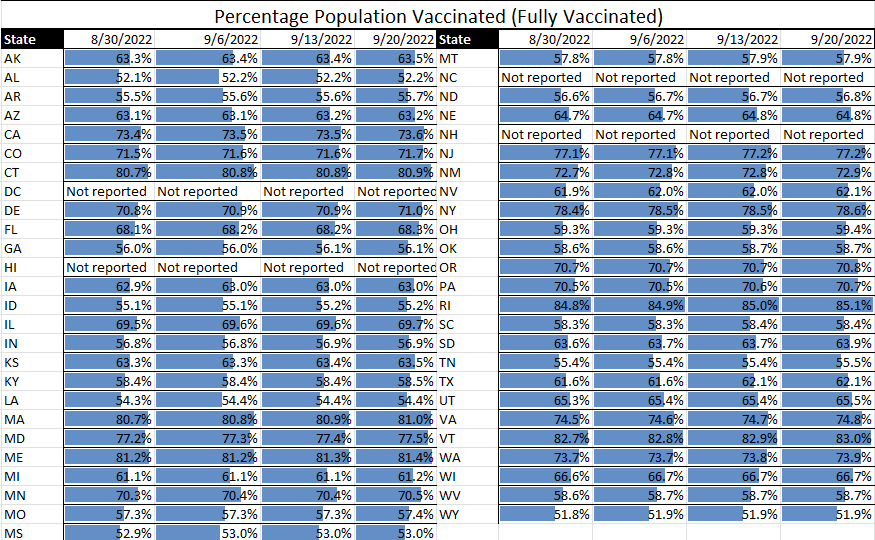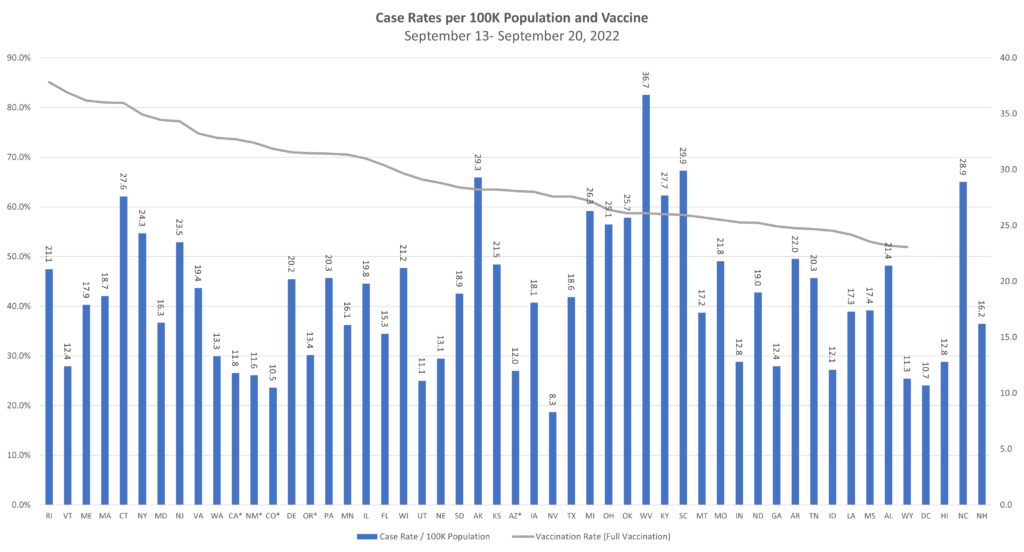 Monkeypox: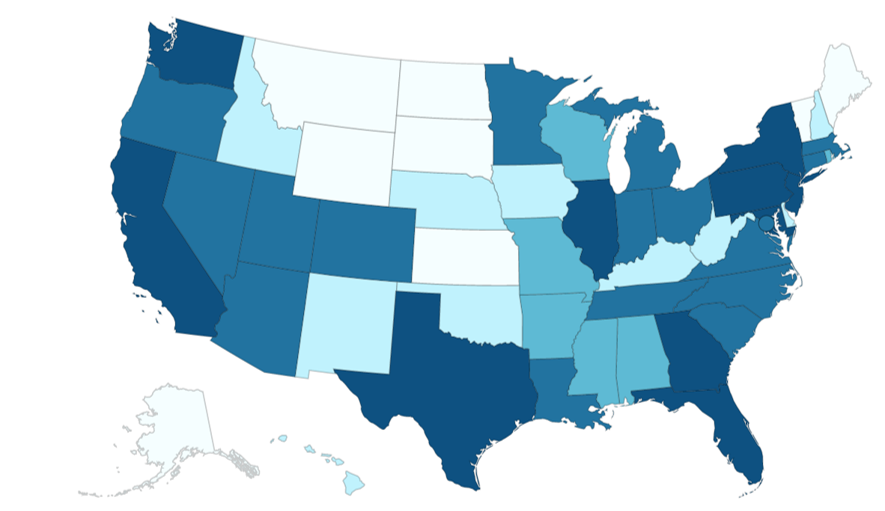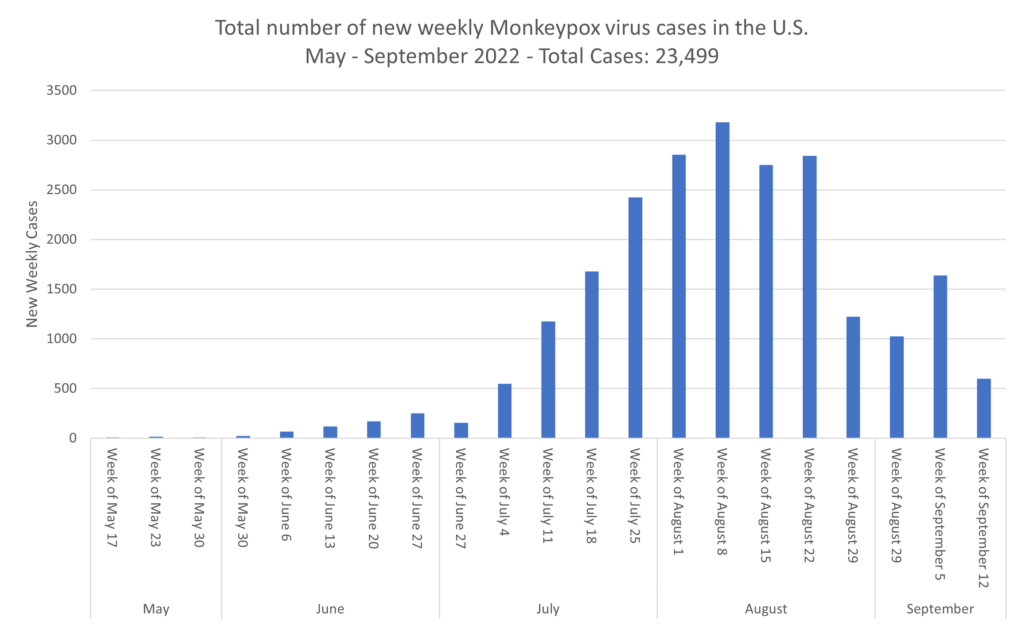 Influenza: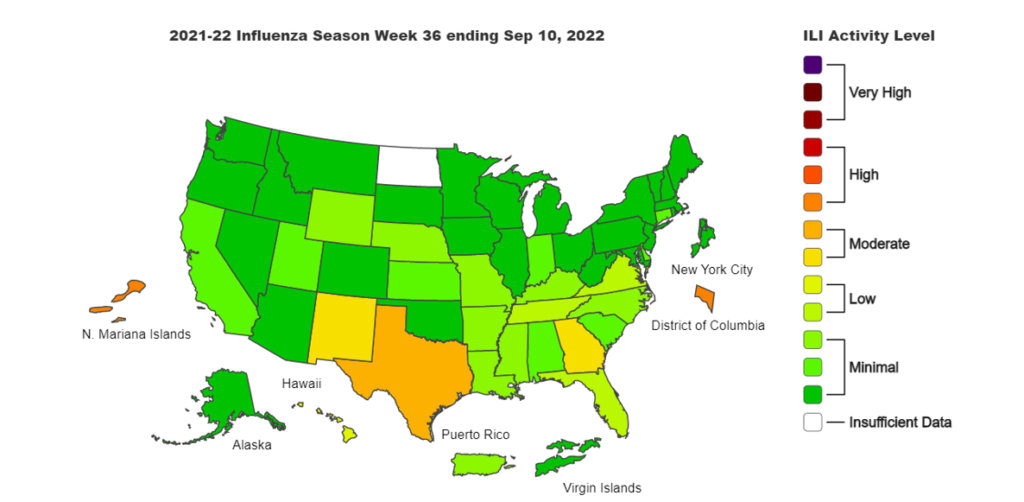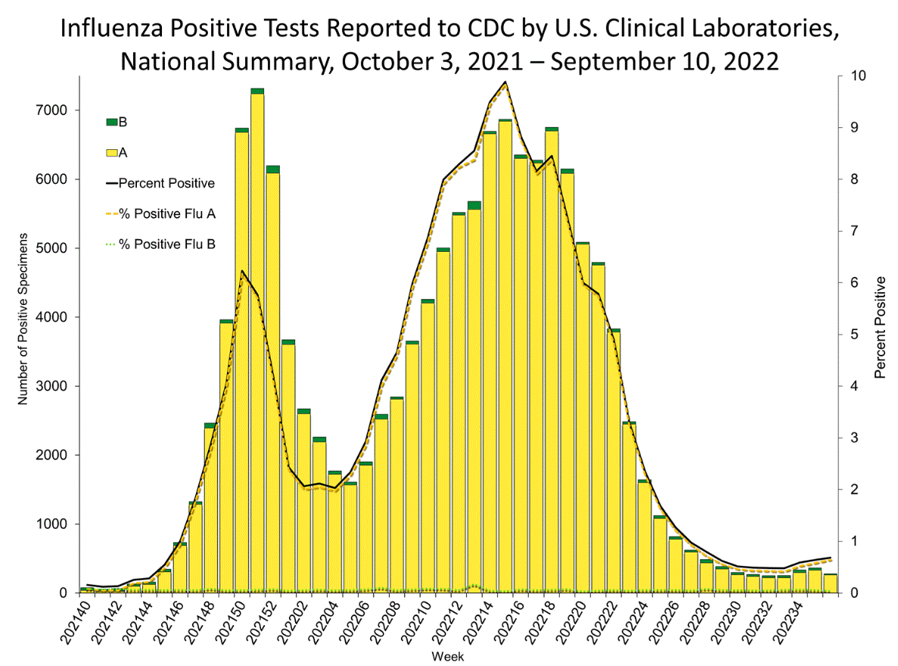 In case you missed it:
COVID
Monkeypox
Florida infant, New Hampshire child contract monkeypox. Contracted from household surfaces and contacts, two children have been recently diagnosed with monkeypox, one from Florida and the other from New Hampshire. To date, 27 confirmed cases of monkeypox have been in pediatric aged patients. The CDC currently reports a nation total of 23,499 cases. In a preprint study, researchers in Singapore report isolating viable monkeypox virus from surfaces and dust samples, but they obtained no viable virus from air and water samples from a patient's hospital room. A case report describes a possible tattoo-transmitted monkeypox infection in Italy. The patient reportedly got a tattoo in Spain in the 7 days prior to rash development. The rash developed where the tattoo needle was inserted.
Low risk of monkeypox spread noted in health workers. In a report today of 313 healthcare workers (HCWs) exposed to monkeypox in Colorado, none of them contracted the virus, despite few wearing the recommended personal protective equipment (PPE) or receiving postexposure prophylaxis (PEP) vaccination. Most encounters between HCWs and monkeypox patients were short, with 69% lasting only 5 to 30 minutes. Only one HCW was exposed for more than 3 hours. Only seven (2%) were exposed during an aerosol-generating procedure. The CDC announced the launch of a new initiative called the Monkeypox Vaccine Equity Pilot Program. The program allows local, state, and territorial health departments, as well as tribal governments and non-governmental organizations, to submit requests to access the monkeypox vaccine, and it aims to reach populations that may face barriers to monkeypox vaccination. In related news, both New York and Oregon recently expanded access to monkeypox vaccines to include anyone at risk of exposure (in New York), and anyone who anticipates having or has had recent skin-to-skin contact and who knows someone who has had monkeypox, regardless of sexual preference or gender (Oregon). Also yesterday, the CDC updated treatment guidelines for the use of the antiviral Tpoxx (tecovirimat), recommending the drug be limited to people at high risk for severe disease. "Consider severe disease when a patient has conditions such as hemorrhagic disease; large number of lesions such that they are confluent; sepsis; encephalitis; ocular or periorbital infections; or other conditions requiring hospitalization," the CDC said. Pregnant women and children over 8 years old should also be offered treatment.
Food Safety & Public Health
Reported from Healthmap.org:

Norovirus in the UK – cases of virus are 49 percent higher than what is expected of this time of year. Settings of cases are increasing in care homes and educational settings such as schools, colleges, and universities. Reports of measles have been recorded due to lack of vaccination in Zimbabwe, Paraguay, Afghanistan, and one case in Australia (linked to travel).
One report stated that even if a child survives a case of measles, Harvard research shows that they may experience a phenomenon known as "immune amnesia" which wipes out existing immunity to other previous illnesses, leaving them even more susceptible to subsequent infections. This illustrates the need to work hard to combat this disease. The World Health Organization has activated its emergency response strategy in Zimbabwe to deal with the latest measles outbreak in the Southern African nation.

Patient count grows in outbreak associated with Daily Harvest frozen crumbles. Federal officials continue to receive complaints of illnesses associated with frozen "Lentil & Leek Crumbles" sold by Daily Harvest. As of Sept. 15, the Food and Drug Administration had received 386 consumer complaints, up from 369 complaints reported on Aug. 25. Sick people have reported gastrointestinal illness and abnormal liver function, according to the FDA. Additionally, at least 25 patients had to have their gallbladders removed. Of known patients, 130 have required hospitalization. The company initiated a recall of its Lentil & Leek Crumbles on June 17.
Three dead in Austrian Listeria outbreak. Käserei Gloggnitz has recalled a number of products in relation to the incident. Käserei Gloggnitz's recall covers all kajmak, drinking yogurt and cream cheese products due to potential Listeria monocytogenes contamination. Kajmak is a type of cheese. Cluster analyses by the Austrian Agency for Health and Food Safety (AGES) found eight infections have occurred since 2020 due to an identical Listeria strain. Three people died between 2020 and 2022.