Key Points:
COVID
In today's Recommendation for Industry, we discuss the expected fall increase in respiratory illnesses. Read more below.
COVID vaccines in pregnancy tied to lower risk of NICU stay, stillbirth. Japanese researchers led the analysis of nine observational studies comparing the pregnancy outcomes of 81,349 women who received at least one COVID-19 vaccine dose with those of 255,346 unvaccinated peers through Apr 5, 2022. COVID-19 vaccination during pregnancy was tied to lower risk of NICU admission (odds ratio [OR], 0.88), stillbirth (OR, 0.73), and maternal SARS-CoV-2 infection (OR, 0.46) and no significant additional risk of preterm birth (OR, 0.89), SGA (OR, 0.99), low Apgar score (indicator of newborn needing medical attention; OR, 0.94), cesarean delivery (OR, 1.05), postpartum hemorrhage (OR, 0.95), or chorioamnionitis (infection of the placenta or amniotic fluid; OR, 0.95).
Omicron BA.4.6 makes up nearly 13% of COVID variants circulating in U.S. The U.S. Centers for Disease Control and Prevention (CDC) on Tuesday estimated that nearly 13% of the circulating coronavirus variants in the United States were of the BA.4.6 subvariant of Omicron, as of the week ended Oct. 1. Omicron subvariants BA.5 and BA.4 were estimated to make up 81.3% and 1.1%, respectively.
U.S. CDC ends country-specific COVID travel health notices. CDC said on Monday it will only post a travel health notice "for a country if a situation, such as a concerning COVID-19 variant, is identified that changes CDC travel recommendations for that country."
Food Safety & Public Health
Recommendations for Industry
Expected Fall Increase in Respiratory Illness Has Begun
The ups and downs of infectious diseases are especially evident in this week's Communicable Disease Update. While monkeypox is showing a significant reduction both in the U.S. and globally with no indication or rationale for it to change direction and resurge, respiratory illnesses (including flu and COVID) are taking a typically autumn turn upward.
The primary areas that we're seeing influenza take hold are Texas and Washington D.C. which are both at "red," very high levels. Additionally, the south and southeast areas of the U.S. are beginning to move into low and moderate levels. While we would normally have expected levels to rise faster in the north, with people moving indoors as the weather cools, it is not uncommon at all for levels of the flu and other respiratory diseases to increase in the fall.
We are currently seeing very, very low levels with only two states (Kentucky and Rhode Island) with case rates above 25/100K people – the first time we've seen levels that low since we began tracking! But, as we noted above, with respiratory illnesses typically increasing this time of year, we would expect to see a slight surge in COVID cases as well.
What all of this tells us is that businesses need to continue monitoring wellness, encouraging vaccinations, and ensuring that workers who are ill stay at home. This is particularly true this year as the flu levels are quite a bit higher than they were this time last year – which could likely be attributed to the continual relaxation of respiratory protections as COVID has waned.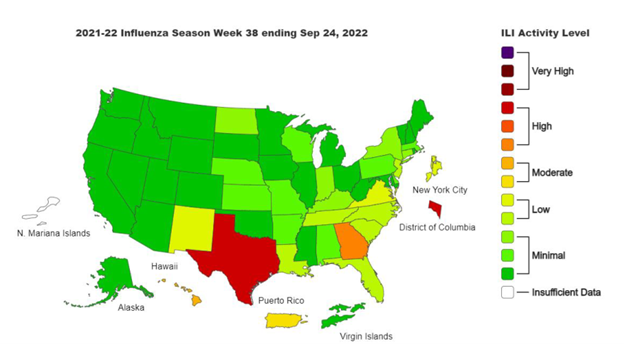 COVID Risk Matrix: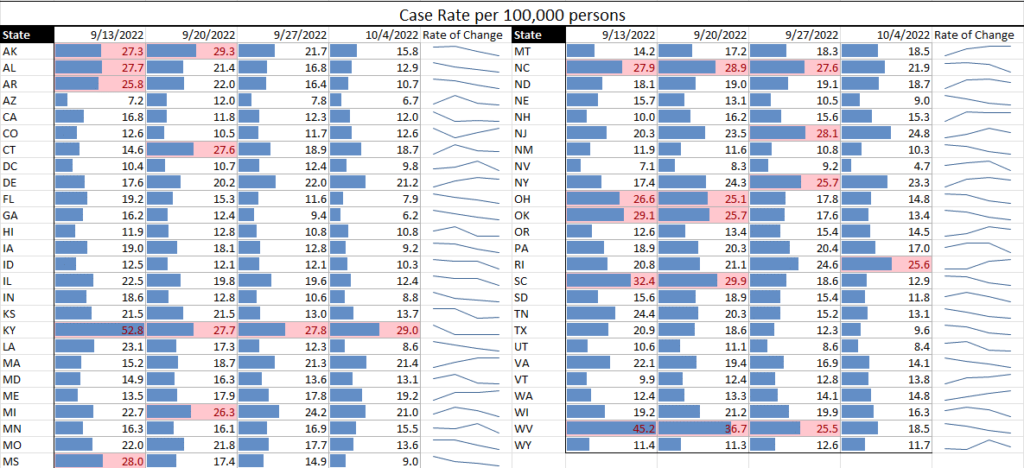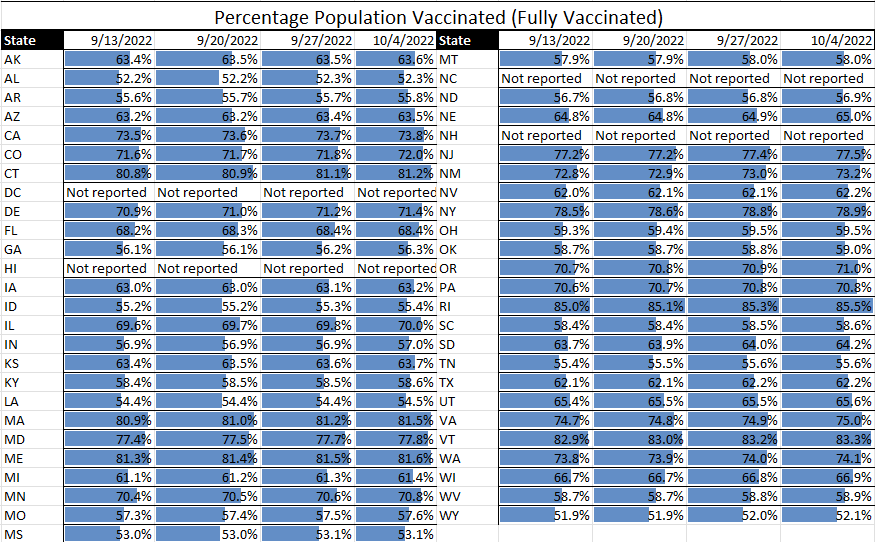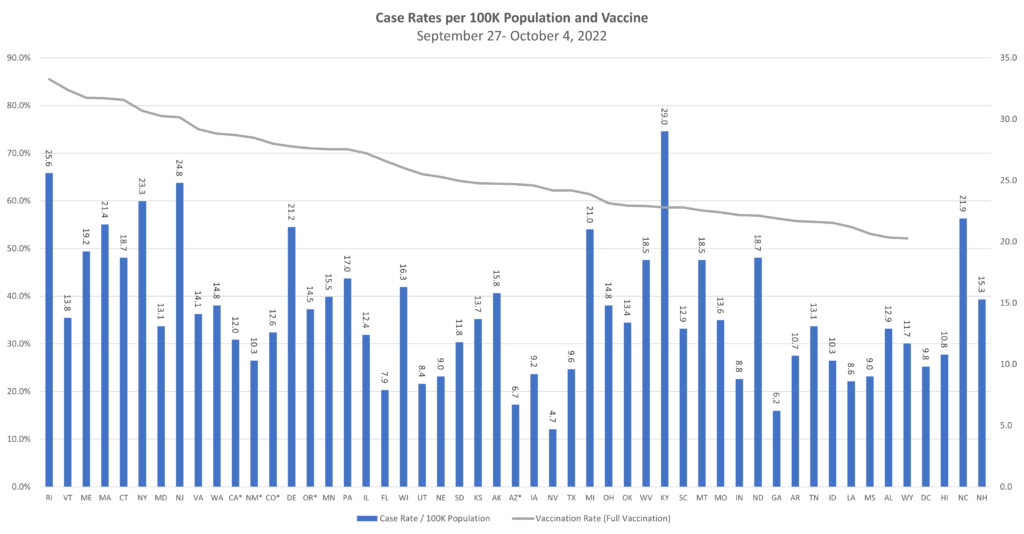 Monkeypox: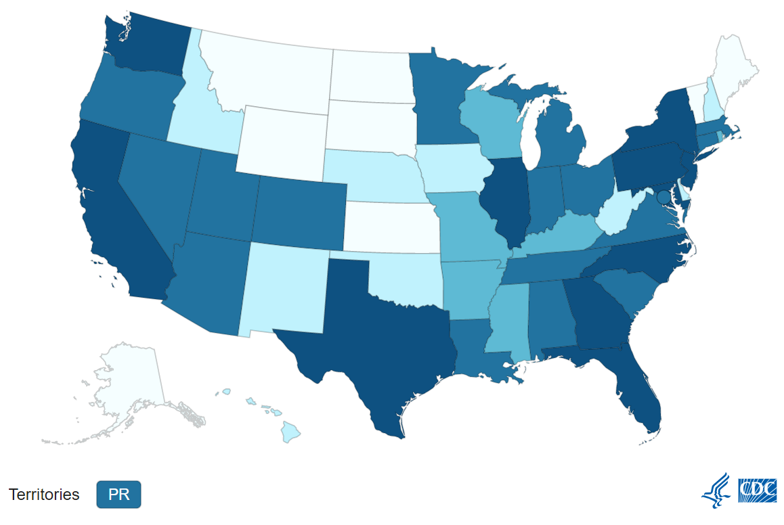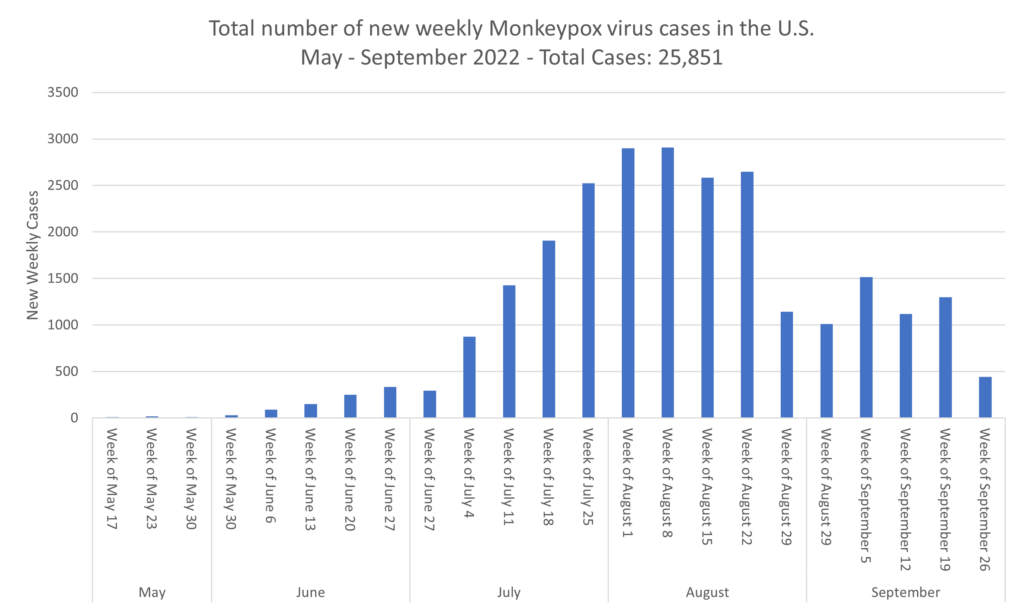 In case you missed it:
COVID
In Tuesday's Recommendation for Industry, we discussed the current Hepatitis A spread in Europe. Read more here.
Universal masking no longer recommended in health care facilities, CDC says. The CDC no longer recommends universal masking in health care settings unless the facilities are in areas of high COVID-19 transmission. Per the new recommendations, facilities in areas without high transmission can "choose not to require" all doctors, patients and visitors to wear masks. Regardless of the new guidance, the CDC still recommends masking in health care settings for people who have suspected or confirmed COVID-19 or other respiratory infections, people who have had close contact or a higher risk exposure with someone with COVID-19 and people who reside or work on a unit or area of the facility experiencing an outbreak, regardless of universal requirements and transmission rates.
COVID-19 continues upward trend in Europe. Europe's COVID cases showed more signs of rising last week, marking the first regionwide spike since the most recent BA.5 wave. Cases in people ages 65 and older rose 9% compared to the previous week, which the ECDC said was led by recent increases in 14 of 26 countries in the European Union that reported data. In a weekly update, the Centers for Disease Control and Prevention (CDC) said the 7-day average for new daily cases decreased 13.1% compared to the week before, with the 7-day average for new COVID deaths down 6.7%. In other updates, the CDC said more than 7.5 million people have gotten their updated booster doses, up from 4.4 million last week. However, it also noted that 49.9% of the eligible population has yet to receive any booster dose.
Monkeypox
First monkeypox case in UK likely seen in March. The World Health Organization (WHO) and the European Centre for Disease Prevention and Control (ECDC) released a new report on the monkeypox outbreak in Europe and noted that the first specimen identified through retrospective testing in the United Kingdom was on Mar 7, and the earliest date of symptom onset was reported on Apr 17.
Food Safety & Public Health