While COVID appears to be on a downward trend across much of the globe, including the U.S., there continue to be hotspots and surges, particularly that of China caused by its sudden withdrawal of its Zero-COVID policy in December. Since then, China reports that there have been 60,000 COVID-related deaths. However, fewer than 10% of those were directly attributed to respiratory failure, while the other 90% had additional underlying conditions. The most common variants being reported in China are the Omicron subvariants BA.5.2 and BF.7, which according to the WHO, account for 97.5% of all local infections.
The China surge is just one example of what is now being seen as more of a regional COVID transmission vs. seasonal transmission. Because of this, there is speculation that new variants will follow this regional vs. seasonal spread, with a need to monitor areas of high transmission for variant emergence and then expansion. That would, however, "require coordination at the global health level to monitor all of the potential hotspots in the world."
While there are currently not resources to do that effectively, we can expect that COVID will become a part of regular disease surveillance, as are other respiratory viruses. But we need to be thinking of vaccines as preventing or limiting illness, rather than simply blocking transmission.
As depicted in TAG's weekly matrices, flu also seems to be leveling off or decreasing in some areas, with many reports also coming out from Canada that it is decreasing there. For more on current trends, see TAG's graphs below.
COVID Risk Matrix: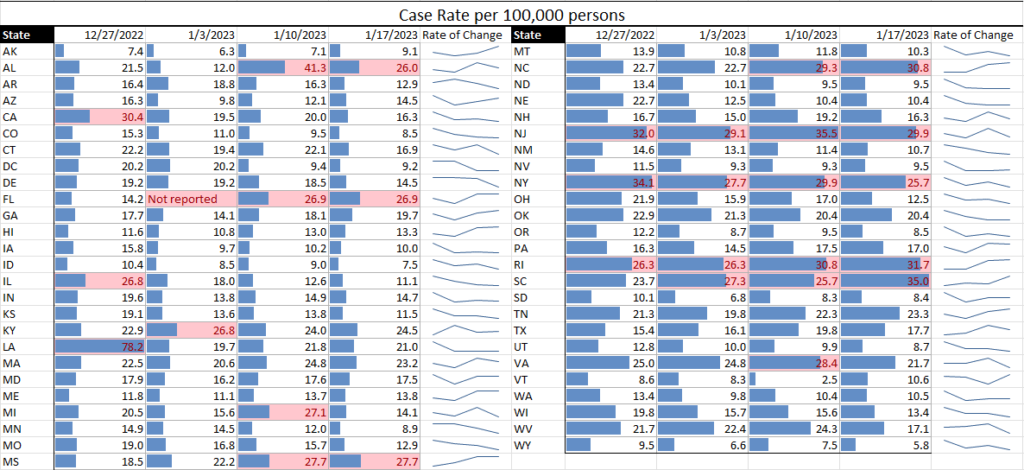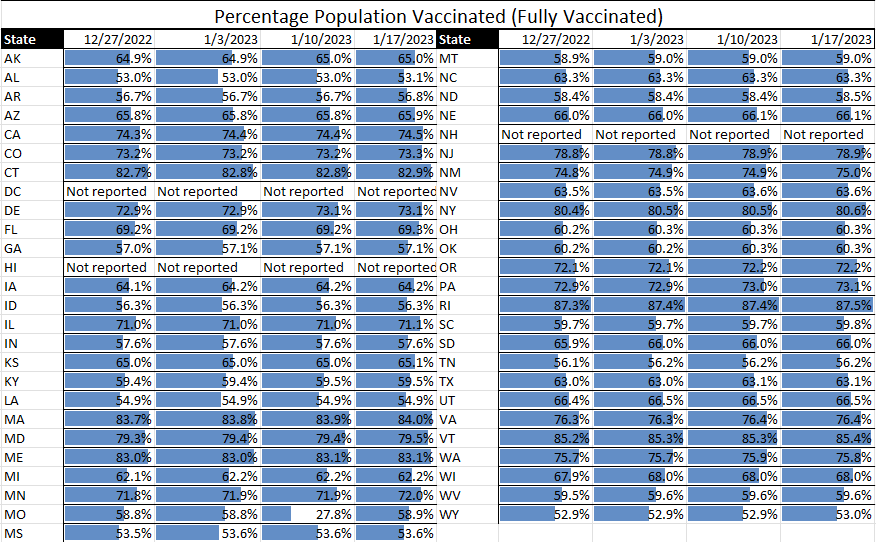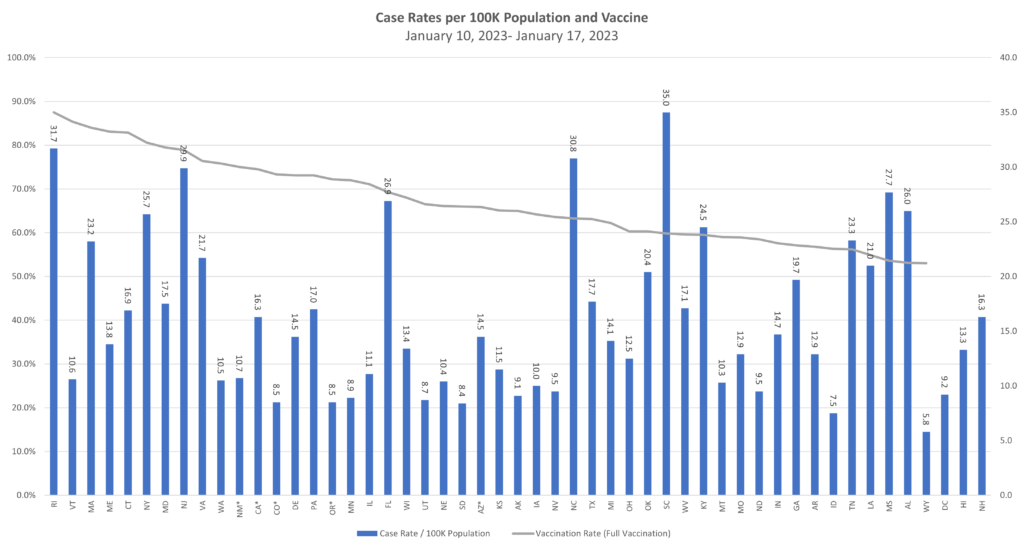 Influenza: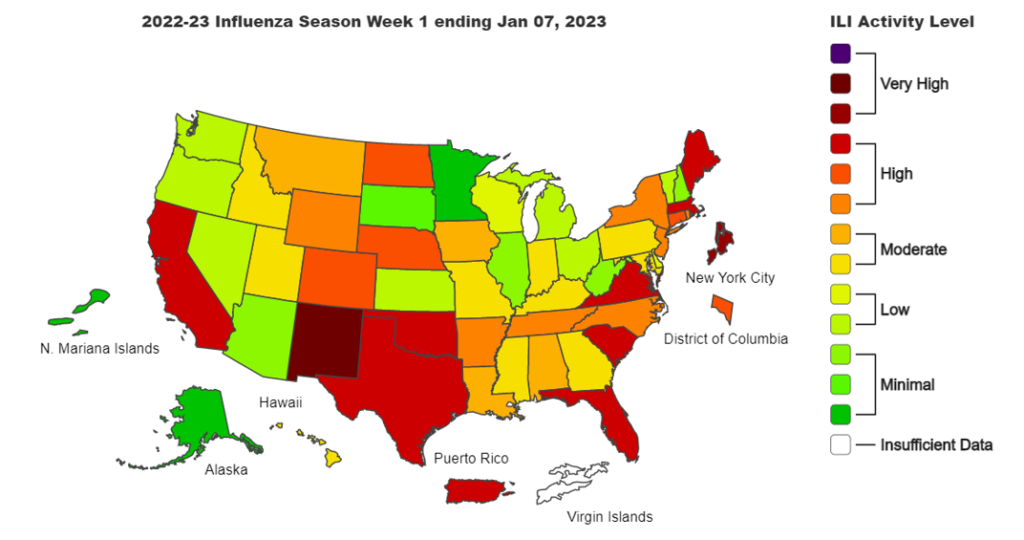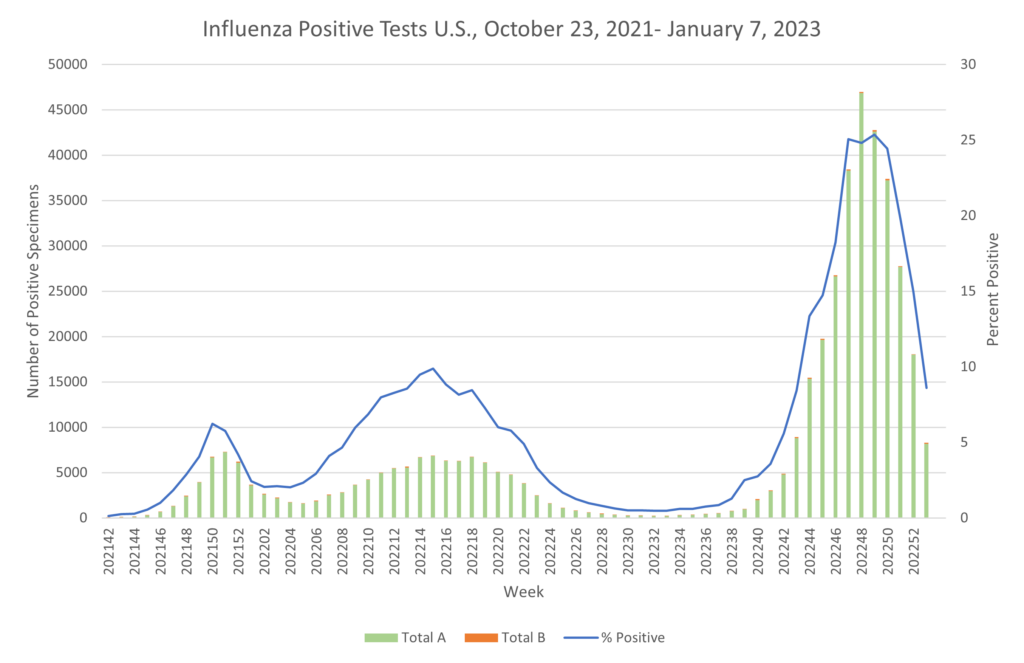 Infectious Disease News
Ebola. On 11 January 2023, Uganda declared that the Ebola disease outbreak caused by the Sudan ebolavirus was over. The declaration was made after 42 days passed without any case reported, since the last case was released from care. As a result of the Ebola outbreak being declared over, the US has lifted screening of Ugandan arrivals.
COVID.

A health official has speculated about COVID's progress in the year to come, with speculation of new variants, surveillance of the virus becoming regular, and ensuring the message for vaccines is about preventing illness rather than blocking transmission.
Feds probe possible stroke link to new Pfizer COVID booster. Federal health officials looked into a potential stroke risk in seniors who received the Pfizer-BioNTech bivalent booster. Follow-up investigations in the US and other countries by the company have not found the same signal. Considering all the data, it is unlikely that the signal from the CDC's Vaccine Safety Datalink system represents a true clinical risk.
US XBB.1.5 levels continue steady rise. BQ.1 and BQ.1.1 subvariants account for an estimated 44.7% of viruses nationally and are still dominant across much of the United States. The CDC estimates that XBB.1.5 makes up 43% of sequences samples, with a range of 26.4% to 61.1%.

Flu. US flu activity declines further. The percentage of outpatient visits for flulike illness dropped from 5.4% to 4% last week. The percentage of respiratory specimens that tested positive for flu at clinical labs fell from 15% to 8.6%. Influenza A made up nearly 99% of flu samples from clinical labs, with H3N2 still the dominant strain. Overall activity in Europe continues to rise. Central Asia's activity is also rising, with the 2009 H1N1 strain predominant, followed by influenza B.