With the US declaring an end to the COVID-19 public health emergency (PHE) as of May 11, 2023, CDC has updated its guidance to incorporate some changes:
Neither at-home coronavirus test kits nor those performed by clinicians and analyzed by commercial labs will continue to be free. Some insurance carriers may still cover the vaccines, but they are no longer required to do so.
Access to COVID-19 vaccines will generally not be affected, for now – but there may be some changes in the vaccines that can be obtained at pharmacies, especially childhood vaccines. However, COVID vaccines will remain free for those with and without insurance at least through December 2024.
Treatments, such as Paxlovid, will also remain free while they last. After that, the price will be determined by the insurance carrier.
Labs will no longer be required to report COVID test results to CDC, so updating guidance in response to illness statistics will be more challenging. Some data will continue to be available (as outlined by CDC).
Proof of vaccination – The US has cancelled vaccination requirements for international travel. COVID is no longer a global public health emergency according to the World Health Organization (WHO).
Although the public health emergency aspect of COVID is declared over, COVID has not disappeared. You can still get and spread COVID, so it's wise to continue to remind employees to stay home when they are ill.
The end of the PHE also provides a good opportunity to review your COVID protections to determine what worked, and what didn't, while it is still fresh. If you have a plan, use this review to make revisions to help ensure you are more prepared for other emerging infectious diseases. If you did not have a plan, reviewing the protections you implemented can help you create one to put you a step ahead as well.
COVID Risk Matrix: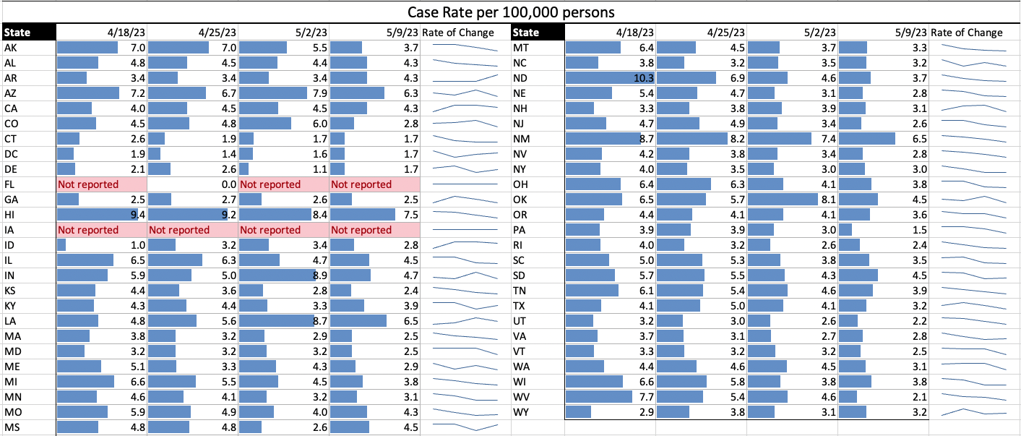 Influenza: