The US is currently seeing some very positive downward trends in the various infectious diseases that TAG has been tracking:
RSV has been on such a downslope for several weeks that it has all but disappeared, which has led to TAG's removing it from our weekly matrices.
COVID is continuing to show endemic behavior. It is still around, and will, in all likelihood, remain so with seasonal fluctuations. We are, in fact, starting to see some slight global uptick in the southern hemisphere which is going into its fall season.
Norovirus threw a bit of a curveball, as it had been following previous annual trends, so our expectation was that we would see a spike. However, the virus has taken a significant downturn. It's possible that there could still be a surge, but it is not following its usual pattern, so we will continue tracking it to keep you informed.  
Influenza seems to be coming to a relatively consistent and quiet end in the US, however, this is not the case throughout the world as there are a few global hotspots, particularly in China and India, with some high case rates in parts of Europe and South America as well.
While this does leave us feeling a bit more comfortable about current infectious disease trends, it does not bode well to become too comfortable. There may be a case to made that the unexpected downturn of norovirus could be due to increased hygiene, handwashing, and general protections having become more standard practice since COVID. COVID also made us realize that emerging diseases and pandemics can occur nearly out of the blue at any time. An interesting case is made by the New York Times for staying attuned to the potential and preparing for it through global cooperation and coordination.
All in all, keeping your guard up and hygiene and wellness checks in place will help any business fight off infectious diseases, be they seasonal or emerging.
COVID Risk Matrix: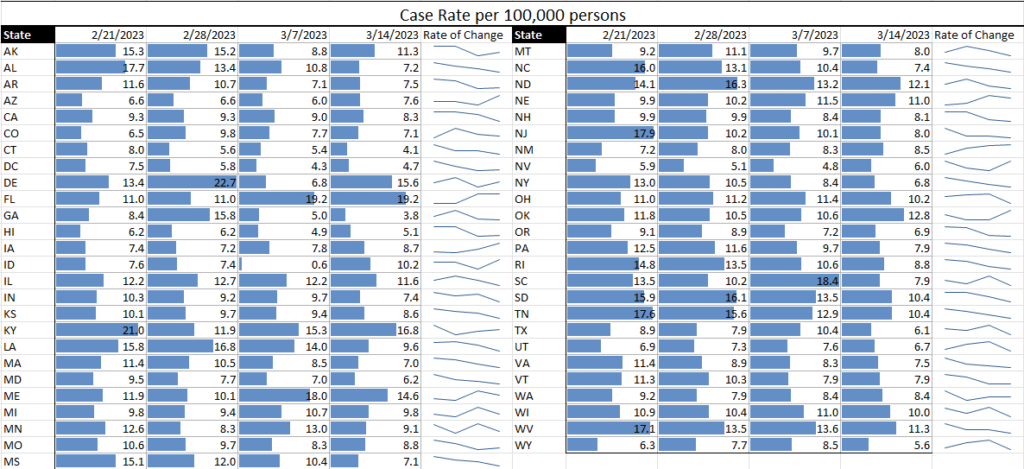 Influenza: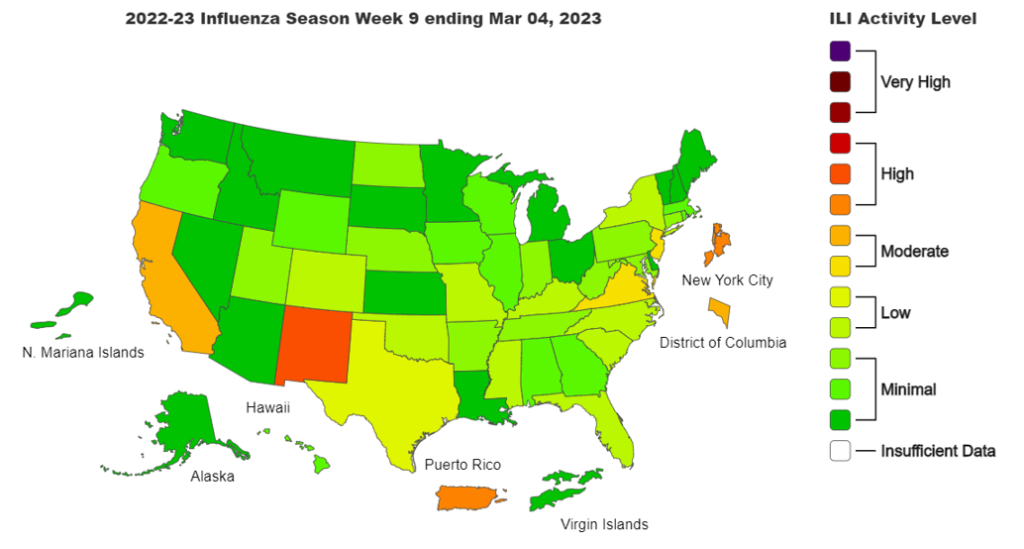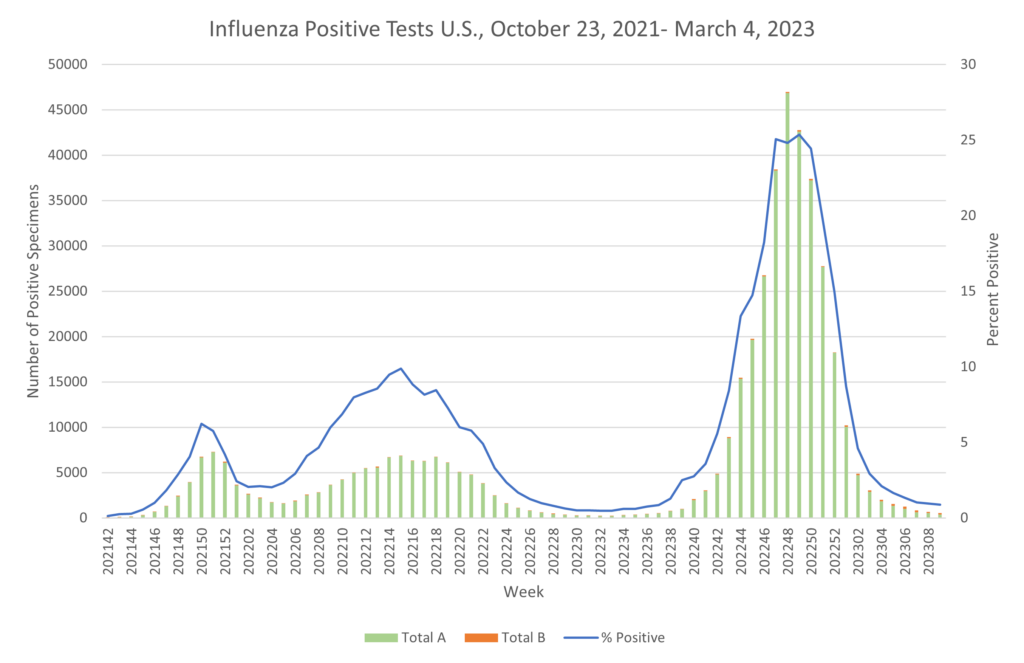 Infectious Disease News:
Influenza.

While COVID rates are declining in China, there are reports of rising influenza cases in the country. The northwestern city of Xi'an (population 13 million) prepared to enforce pandemic-style lockdowns to curb the surge in flu infections. Flu activity in Beijing has recently increased as well, especially in schools and nursery institutions. Chinese Public health officials warn that flu activity level there is often higher from March to May.

Cases of influenza are on a steep rise in India as the official data shows a rise of 69% in a week. Fever camps are being established in regions where cases are highest.

CDC estimates that so far this season there have been at least 26 million illnesses, 290,000 hospitalizations, and 18,000 deaths from flu in the US. Nationally, rates of outpatient's respiratory illnesses are now below the baseline level.

Measles.

Ghana public health officials state that measles vaccines will be delivered in the next few weeks to better manage the ongoing shortage of them.

A measles outbreak has now been declared in all the provinces in South Africa except for the Eastern Cape.

Mumps. 16 cases of mumps were reported at a school in Namibia, Africa.
Strep A. Group A streptococcal infections are higher than typical in Denmark and Ireland.
COVID.

British Columbia is dropping their COVID-19 rule for public servants as the spring booster campaign has been launched- targeting older people and those at highest risk. The vaccine continues to be mandated for health-care workers.

Cholera. WHO and UNICEF announced the launch of a cholera vaccination campaign in parts of Syria that were severely affected by an earthquake on February 6.