Key Points:
COVID
In today's Recommendation for Industry, we discuss the positive trajectories of COVID and monkeypox. Read more below.
COVID-19 may have orphaned 7.5 million kids worldwide. Worldwide, about 10.5 million children may have lost parents or caregivers to COVID-19 and 7.5 million were orphaned, according to a 0new study that estimated excess mortality using World Health Organization (WHO) data. The greatest numbers of orphaned children were in Africa (24.3%) and Southeast Asia (40.6%) WHO regions and the least in the Americas (14.0%), Eastern Mediterranean (14.6%), European (4.7%), and Western Pacific (1.8%) regions.
Global COVID-19 cases continue to fall. For the fourth week in a row, WHO has reported a decline of COVID-19 cases at the global level. Last week cases dropped by 12% compared to the week previous. Of about 4.2 million cases reported last week, the five countries with the most cases were Japan, the United States, South Korea, Russia, and China. Overall deaths also declined last week, falling 5% compared to the week before. However, three regions reported rises: Africa, the Americas, and the Western Pacific. Over the past 2 weeks, the proportion of the Omicron BA.5 variant increased its dominance, from 84.8% to 86.8%, the WHO said. Though US COVID cases continue to fall, illnesses in children last week rose for the second week in a row, according to the latest update from the American Academy of Pediatrics. About 90,600 infections in kids were reported, up 14% from 2 weeks ago.
Monkeypox
Monkeypox Update: FDA Takes Significant Action to Help Expand Access to Testing. The U.S. Food and Drug Administration is announcing steps to further increase monkeypox testing capacity and accessibility nationwide as part of its continued commitment to addressing the ongoing outbreak. The FDA issued guidance that outlines the agency's current thinking regarding enforcement policies, recommendations for emergency use authorization (EUA) requests for monkeypox diagnostic tests, and the FDA's plans to prioritize review of EUA requests. As explained in the guidance, the FDA does not intend to enforce requirements for certain tests developed by laboratories that are used without submission of an EUA request where they are appropriately validated and the laboratories notify the FDA within 30 days, among other things. The agency's intent is to facilitate the development of additional tests to address local availability and accessibility concerns not addressed by current testing capabilities. In addition to the FDA's guidance, the agency issued the first EUA for a monkeypox in vitro diagnostic. The Quest Diagnostics Monkeypox Virus Qualitative Real-Time PCR is intended to detect monkeypox and other non-variola orthopoxvirus DNA using lesion swab specimens.
Downward monkeypox trends continue in Europe, Americas. Currently, the global total stands at 55,470 cases reported in 100 countries. The Centers for Disease Control and Prevention (CDC) reported yesterday 771 more monkeypox cases, raising the nation's total to 20,733. Today, Reuters reported the European Union secured an additional 170,920 doses of Bavarian Nordic's monkeypox vaccine, doubling its supply. The doses will be delivered to the European Union by the end of the year. In related news, the US Department of Health and Human Services (HHS) announced today a $20 million contract with AmerisourceBergen to expand and speed distribution of monkeypox vaccine and treatment. According to HHS, the move allows up to 2,500 shipments per week of frozen Jynneos vaccine and up to 2,500 ambient temperature shipments per week, which can be used for Tpoxx distribution.
Food Safety & Public Health
Legionella identified as source of Argentina's deadly pneumonia cluster. Over the weekend, Argentinian health officials announced that Legionella was isolated from samples from four people infected in an unexplained cluster of bilateral pneumonia at a hospital that triggered fears of a possible outbreak of a new pathogen. They said the Legionella bacteria were still being subtyped, but they suspect it is Legionella pneumophila. All of the patients with confirmed infections have connections to the hospital. Of the 11 cases and 4 deaths covered in the WHO statement, 8 involved healthcare workers and 3 involved patients.
FDA Advises Parents and Caregivers Not to Buy or Give Mother's Touch Formula to Infants. The FDA is advising parents and caregivers to not buy or give Mother's Touch Formula to infants under their care. The product is being marketed as an infant formula without the required pre-market notification of the FDA, and it does not meet infant formula nutrient requirements for seven nutrients. If you have purchased this product, the FDA has recommended you discontinue using it or throw it away. If you have used this product and are concerned about your child's health as a result, contact their health care provider.
Recommendations for Industry
COVID and Monkeypox Showing Positive Trajectories
Based on both TAG's weekly matrix and global reports, there are positive outlooks for the trajectories of both COVID and monkeypox, with both appearing to be in declines. There are a few states that continue to show higher case and transmission rates, but they are the same states that have been high the last few weeks and seem to be in a bit of a holding pattern.
As noted in key points, global COVID cases have dropped 12% compared with last week and deaths have decreased by 5%. With this slow, steady downward trajectory, with some holdouts, we are seeing COVID as a fully endemic disease at this point. So, like the flu, we would expect to have pockets of transmission and a potential increase in the fall and winter. For this reason, it is essential that wellness checks be continued, and employees asked to stay home when ill.
COVID Risk Matrix: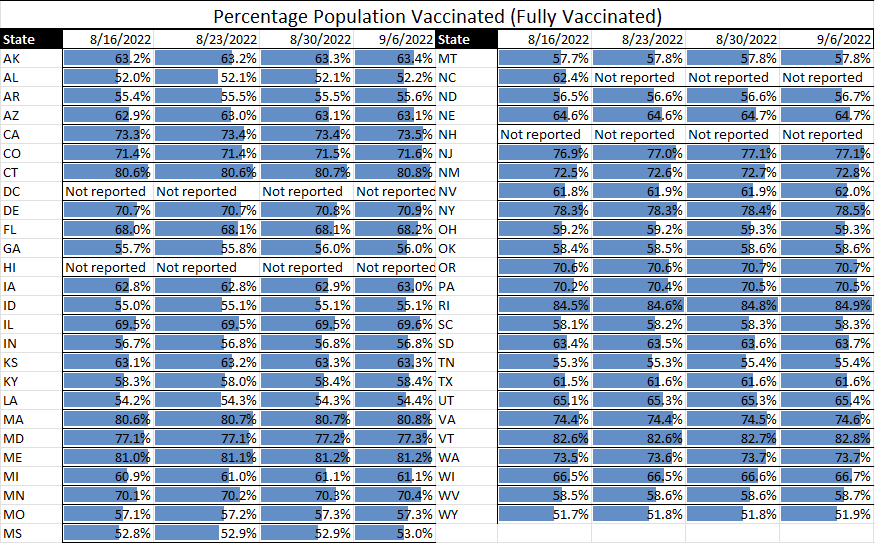 Monkeypox: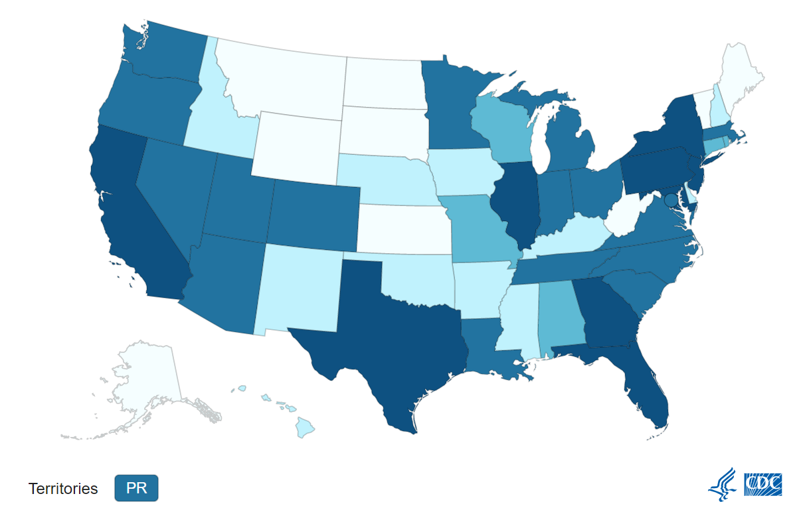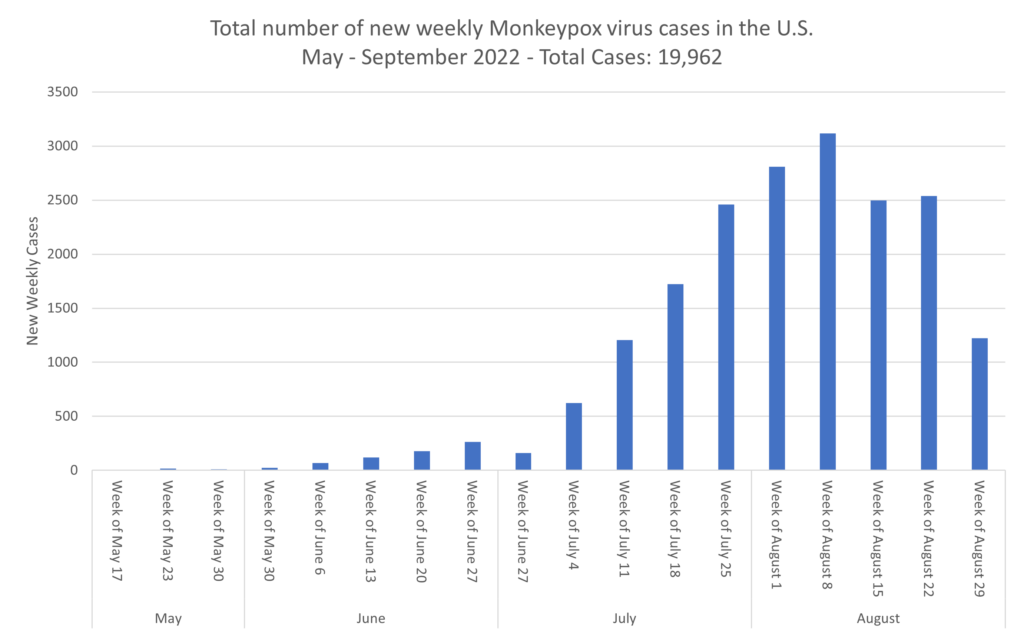 In case you missed it:
COVID
In Tuesday's Recommendation for Industry, we discussed the typical increase of respiratory disease in the fall and how to prepare now. Read more here.
Low testosterone in men may raise risk of COVID hospitalization. A study from JAMA Network Open found that men with low testosterone levels and COVID-19 were more than twice as likely as men with normal concentrations to be hospitalized. Men with chronically low testosterone concentrations have decreased muscle mass and less strength, both of which contribute to reduced lung capacity and ventilator dependence. The researchers noted that male hypogonadism has been tied to obesity, metabolic syndrome, type 2 diabetes, kidney disease, and chronic lung disease.
CDC panel recommends updated COVID boosters. Vaccine advisers to the Centers for Disease Control and Prevention (CDC) recommended two updated COVID-19 boosters that target the circulating BA.4/BA.5 Omicron subvariants. After discussions today, which included extensive presentations from CDC experts, scientists from Moderna and Pfizer, as well as comments from the public, the CDC's Advisory Committee on Immunization Practices (ACIP) passed the recommendation with 13 yes votes and 1 no vote for both boosters in separate votes. Immunization with the updated shots can begin as soon as the CDC director formally accepts ACIP's recommendation.
Monkeypox
Monkeypox slows in UK, US as CDC notes diagnosis issues. In the United States, the doubling time for the outbreak has stretched to 25 days, from an average of 8 days throughout July. Cases in Britain could be declining due to behavior changes, proper diagnosis, and saturation of the at-risk population. New York City now has enough monkeypox vaccine supply to begin offering second doses. The vaccine is available by appointment only, and people who received their first dose at least 10 weeks earlier will be notified by email or text that they are eligible.
US schools, colleges see monkeypox cases. A case was identified at a Greenwood, South Carolina middle school but health officials assured parents there were no close contacts or exposures and no reason for concern. The University of Pittsburgh is the latest college to report a monkeypox case in a student. The student is recovering in isolation, and close contacts have been identified and notified of the case. Belgium has reported its first monkeypox death in an individual who had underlying medical conditions. There have been 18 deaths reported worldwide as of today. In total, the World Health Organization has confirmed nearly 53,000 cases worldwide.
Food Safety & Public Health
Argentine officials probe deadly unexplained pneumonia outbreak. Health officials in Argentina are investigating an unexplained pneumonia outbreak cluster linked to a healthcare facility in Tucuman province in the northern part of the country that has sickened 10 people so far, 3 of them fatally, according to government and media sources. Testing at the local health lab was negative for known respiratory viruses and other bacterial and fungal causes. Officials said initial testing has ruled out COVID-19, hantavirus, and Legionella. In a separate statement, the ministry said 5 of the 10 patients remain hospitalized in serious condition, with 4 of them requiring mechanical ventilation.
More people sick as outbreak linked to Wendy's spreads to 2 more states. Another 13 people have been confirmed sick in an outbreak of E. coli O157:H7 infections linked to lettuce on sandwiches from Wendy's restaurants. Two states have been added to the outbreak. Half of the 97 outbreak patients have been so sick that they had to be admitted to hospitals. Of the 43 hospitalized people, 10 have developed a kind of kidney failure known as hemolytic uremic syndrome (HUS). Among the 67 people with detailed food histories, 81 percent reported eating at Wendy's restaurants. States currently with reported food borne illness related to this outbreak are Michigan, Ohio, Indiana, Pennsylvania, Kentucky, and New York.